AADAR Blog
AYURVEDIC ADVICE FOR SEXUAL WELL-BEING
by Harsh Shah on Nov 30, 2022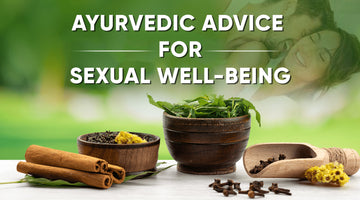 Sexual energy and interaction are regarded as one of The Three Pillars of Health in Ayurveda. Our sexual energy is critical to comprehend, and the following are some key strategies for making the most of your love life, both in terms of enjoyment and health. Sex and our behavior around it are inextricably linked to our immune system and the flow of vital energy, known as Ojas in Ayurveda.
Ojas is best defined as vitality, our ability to not only survive but thrive in life with a strong internal and external body. When Ojas is abundant in the body, the individual exudes good health: radiant eyes, lustrous hair, glowing skin, a strong immune system, and a positive and balanced outlook on life filled with joy, mental clarity, and compassion. In contrast, a person with low Ojas will have dry skin, cold hands and/or feet, constipation, anxiety, pain in all forms, mental stagnation, negativity, and fatigue.
If used correctly, sex and a positive flow of sexual energy can increase Ojas in the mind and body. Sexual interaction, if suppressed or overused, can seriously deplete and harm a person's health. Our sexual being is not to be taken lightly and must be nurtured and attended to on a regular basis
TOP TIPS FOR MAINTAINING HEALTHY SEXUAL ENERGY
MODIFY YOUR SEXUAL ROUTINE IN ACCORDANCE WITH THE SEASONS
Sex is a heating activity that can deplete and aggravate the body if done too frequently during certain seasons. Ayurvedic practitioners advise having sex only every two weeks or so during the summer when our vitality is at its lowest. In contrast, during the winter and with the following Ojas building strategies, you can freely have sex on a daily basis. In the spring and autumn, every 3-4 days is recommended, but only if the body is in good condition, with no fatigue, illness, or pain. Remember that, just like food, sex is intended to be not only enjoyable but also beneficial.
ADD YOGA AND MEDITATION TO YOUR DAILY ROUTINE.
Incorporate a regular Yoga routine into your day to improve mobility, mind/body/soul connection, and Ojas in the body. This includes Pranayama (Breath Practice), Asana (Posture Practice), and Meditation. This will increase your enjoyment of your sexual experience while also making you more connected and in tune with your libido. And that brings me to my next point.
PLEASE DO NOT HAVE SEX IF YOU DO NOT FEEL LIKE IT!
Remember that the body is highly intuitive, and if it is telling you that it is too tired, that it is not feeling the chemistry, or that there is no libido for any reason - it is not ready for sex.
Performing the act in this state can deplete and irritate your entire system - mind, body, and soul. Your libido is a type of appetite that indicates Ojas, or healthy sexual energy. Libido is also an indicator of many things that our minds frequently fail to register.
This could be because your body requires rest and healing, you are feeling disconnected within yourself, or it is an indication that the chemistry between you and your chosen partner is not right. This is why having sex under the influence of any kind can be harmful because your connection to yourself and your partner is jeopardized.
WHENEVER POSSIBLE, CHOOSE ONLY ONE SEXUAL PARTNER.
Sex with multiple partners is not Ayurvedically recommended in order for sex to be of ultimate pleasure, with true connection, and to be nourishing for the body, mind, and soul. Sex with multiple partners is extremely depleting to the Ojas and can lead to a slew of imbalances in the long run, according to Ayurvedic medicine. Furthermore, sex is regarded as both a spiritual and a physical experience. Because it is an exchange of spiritual energy from one being to another, being selective about who you allow being present with you is critical. To enjoy sex physically is one thing, but to enjoy it mentally and spiritually is another.
PRIORITIZE INTIMACY ABOVE ALL OTHERS
Keep in mind that sex is for connection, pleasure, and divine experience. Massage, exploring the physical body aside from the sexual organs, talking, gazing, and simply making time before and after sex are all intimate acts of connection to incorporate before, after, and during sex. Along with the magic of sex with a connected partner, this can be so healing and nourishing for the body.
FEED YOURSELF
Rebuild your system after each intimate interaction, especially if you have sex frequently for fertility or just for fun. Sex depletes Ojas and drains a lot of energy from your system. After sex, I strongly recommend a warm oil self-massage called Abhyanga followed by a warm shower. After such significant physical and energetic expenditure, this strengthens and nourishes the body. In addition, consume a warm, well-cooked, moisture-filled meal or the warm milk drink listed below to replenish the body internally.
In The End
To improve and enhance your sexual life, consume natural and healthy supplements. AADAR has the best ayurvedic male enhancement pills and other sexual wellness products. AADAR has a wide range of sexual products that treat your sexual concerns naturally and effectively for a long time.
We have Health Experts who can easily connect with you and discuss your sexual concerns. You can consult your family doctor first to get the most accurate diagnosis, or you can contact our Health Expert or connect with us at +919867667699.