AADAR Blog
Celebrating MEN's Day With AADAR
by Harsh Shah on Nov 19, 2022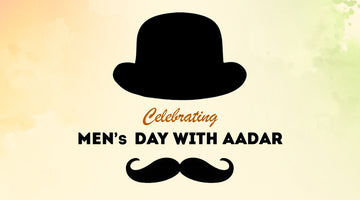 The strength of a man is in his character, and while we don't often talk about men being imprisoned by gender stereotypes, they have the power to break stereotypes. International Men's Day is celebrated annually to honor men and their contributions to society, the community, and their respective families. It is also a day when men's well-being and health are promoted, and their achievements are recognized.
On November 19, International Men's Day focuses on men's health, improving gender relations, highlighting male role models, and encouraging positive expressions of masculinity. It's also an opportunity to honor men who do not fit into traditional definitions of masculinity, such as gay and bisexual men, transgender men, and masculine non-binary people.
Every year, we set aside a day to honor women, but men play an equally important role in our society, as well as in our homes and hearts. So, let us applaud and recognize the men in our lives.
Every year, November 19th holds a special meaning for men all over the world. Why? Because today is designated as International Men's Day. It is an occasion that calls for a special emphasis on men's health, gender relations, and male empowerment.
It is widely acknowledged that women play an important role in all aspects of daily life. They are productive members of the community and society, they support the institution of marriage, they are actively involved in giving birth and raising children, and they are always there for the men.
While there is no doubt that women make enormous contributions, it is important to remember that men play an equally important role. That is where the need for a men's day emerges. And, while Men's Day does not receive as much attention, it should.
This International Men's Day is supported by many individuals and groups in the Caribbean, Oceania, North America, Asia, Africa, and Europe. The prime objectives of IMD are called "The Six Pillars Of International Men's Day" and they are:
To promote male role models

To celebrate the contribution that men make

To focus on men's health and wellbeing

To highlight discrimination against men and the inequalities that men and boys face

To improve gender relations and promote gender equality

To create a safer world for everyone
Regarding International Men's Day
International Men's Day (IMD) is an annual event celebrated on November 19th. Thomas Oaster started it all in February 1992, but the concept was born on February 8, 1991. This project was restarted in Trinidad and Tobago in 1999. The longest-running IMD celebration took place in Malta, where events have taken place since February 7, 1994.
Dr. Jerome Teelucksingh chose November 19th to honor his father's birthday as well as to commemorate the fact that, in 1989, Trinidad and Tobago's soccer team united the country in their exhausting efforts to qualify for the World Cup- soccer. Dr. Jerome Teelucksingh promoted IMD not only as a gender-specific day but also as a day on which all issues concerning men and boys could be addressed. "They strive for gender equality and patiently attempt to remove the negative images and stigma associated with men in our society," he says.
In a broader sense, International Men's Day is an event dedicated to the promotion of fundamental humanitarian values.
Yearly Themes
As well as the six pillars, an optional secondary theme for IMD has usually been suggested by world coordinators, such as peace in 2002, men's health in 2003, healing and forgiveness in 2007, positive male role models in 2009, and 'our children's future in 2010.
Here are some previous year's International Men's Day themes:
Year                International Men's Day Theme
2022              "Men Leading by Example"
2021              "Better relations between men and women"
2020               "Better Health for Men and Boys"
2019               "Making a Difference for Men and Boys"
2018                "Positive Male Role Models"
2017               "Celebrating Men And Boys In All Their Diversity"
2016               "Stop Male Suicide"
2015                "Working to Expand Reproductive Options for Men"
2014                "Working Together for Men and Boys"
2013                 "Keeping Men and Boys Safe"
2012                 "Helping Men and Boys Live Longer, Happier and Healthier Lives"
2011                  "Giving Boys the Best Possible Start in Life"
Men play important roles in their lives, whether as a father, brothers, or husbands. International Men's Day honors these men by bringing to light the issues they face. Its goal is to keep men in good emotional, physical, social, and spiritual health. However, the day is about more than just celebrating men; it is also about improving gender relations and promoting gender equality.
Simple yet sweet gestures such as wishing the men you care for and expressing gratitude to those who have cared for you can help to mark the day. Men's achievements and events are also celebrated.
AADAR wishes every Man, Happy International Men's Day !!