AADAR Blog
DOES SIZE MATTER?
by Harsh Shah on Nov 09, 2022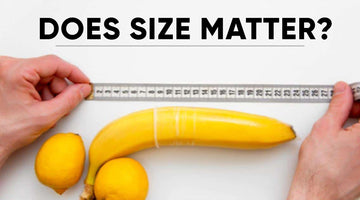 What's The Quick Answer?
No, penis size is unimportant in terms of desirability or function. Its size has no bearing on its ability to give and receive pleasure or do anything else. That's not to say that some people don't prefer a larger or smaller one, but it's a matter of perception, much like pineapple on pizza. To each his or her own. Do you require reassurance or, better yet, proof? Continue reading.
The Myth About Penis Size
Many men are becoming increasingly concerned about their penis size. In fact, most men underestimate the size of their penis in comparison to the average size. The current size myth has increased demand for potentially dangerous surgical penis-lengthening procedures, as well as size-enhancing creams, medications, and devices.
Men's Size Reality Check
In today's society, a large penis is associated with masculinity and sexual prowess. Images of large women as desirable are prevalent in today's media, particularly in pornography. The emphasis on large penis size as desirable has a negative impact on some men's self-esteem, causing size anxiety and issues with sexual intimacy and performance.
Most men believe that the average excited length is 6 inches (15.24 cm) or greater, but most studies on average male size have relied on self-reporting methods such as postal surveys of volunteers. These kinds of studies have contributed to the current society's big-size myth.
According to more precise clinical studies, the average excited male length is 5.1-5.5 inches (12.95-13.97 cm).
Do Women Care About Size?
This survey included 25 heterosexual women, all of whom reported being sexually active at some point in their lives. Participants included single and married women ranging in age from 21 to 89. The majority of participants had given birth. There were experts and survey conductors who made sessions among audiences to know their thought on this and responses were kept anonymous.
Bigger Isn't Always Better.
Contrary to what you may hear in the locker room or in the media, having a bigger dick isn't everything.
Larger-than-average penises have been linked to an increased risk of injury and infection.
Extra length can also make certain positions extremely painful.
If you're not careful, too much girth can cause tearing, especially during anal sex. Then there's the choking and gag reflex to worry about during oral.
Of course, there are workarounds, but it just goes to show that having a big D isn't everything.
Smaller Isn't Always Bad
A smaller D is automatically easier to handle, which means that everyone involved can concentrate on pleasure rather than pain or figuring out how the eff you're going to get THAT in there.

It certainly fits better in the mouth. When it comes to anal, a smaller peen is clearly superior.

Any perceived shortcomings, as with any size penis, are easy and pleasurably remedied with the proper position.

And the average is, well, smaller than you might think.

Most people with penises roughly 85 percent overestimate the average dick size and believe everyone else is packing something much beefier.
Here's A Dose Of Reality Based On The Most Recent Schlong Size Statistics:
When flaccid, the average penis length is 3.6 in (9.1 cm) and 5.2 in (13.1 cm) when erect.

The average flaccid penis measures 3.66 (9.31 cm) in circumference and 4.59 (11.66 cm) in length when erect.

To be clear, size has no bearing on stamina.

You can be hung like a stallion and still have no stamina in the sack.

A large dick will not keep you going longer than a small one, nor will it keep you from running out of steam or cumming faster than you'd like.

It also has no effect on fertility.
If You're Thinking About Having A Baby, The Last Thing You Need To Worry About Is Your Size
To begin with, sperm is produced in the testicles, not the penis. Furthermore, there is evidence that stress can lower sperm quality and affect fertility.

Stress can also impair sexual pleasure, and boners, and have a negative impact on your overall health.

Size can only have an effect on your game, for better or worse.

Peen size can have a significant impact on your game, but how much depends on you.
You'll be a rockstar if you learn how to make the most of what you have and all the other ways to give pleasure. If you only consider size, you will flop literally and metaphorically. Some people, for example, disregard their skill set because they believe that a big dick is all they need to rock someone's world and it isn't. Others may allow concerns about a Small D to sap their confidence, leading them to overcompensate in other ways. All of these things can take a mental toll on the penis-haver and detract from the enjoyment of a sex session for everyone involved.
How To Make the Most of What You Have
Not to beat a dead horse, but the size of your penis isn't as important as what you do with it.

Nothing beats leaving your partner writhing in ecstasy to boost your confidence, which will serve you well both in and out of the bedroom. 

Here's how to make the most of what you've got and feel good about what you're working with whether you're bigger, smaller, or somewhere in the middle.
Does Size Matters For Women During Penile-Vaginal Sex?
Experts also investigated what women prefer in terms of penis size, whether they would cheat if their partner had an inadequate penis size, and what makes big penis sex enjoyable and unappealing. It's finally time to share what experts discovered:
Key Findings Synthesis
Size matters for sexual satisfaction, according to 91.2% of women, with certain penis sizes being too small for them.
Women dislike large penises: 83.4% of women find some penises to be too large to be satisfying.
The most popular penis size range for women is 6-8 inches.
When it comes to dating, 43.6% of women say penis size is important.
64.5% of women believe that the length and width of their penis are equally important for sexual satisfaction.
Pain was cited as the primary cause of unsatisfying big penis sex by 81.5% of women.
In Conclusion:
Being good in bed or anywhere else you choose to get busy is about how you handle it, not how big your penis is. Discovering what feels good for you and your partner, as well as selecting moves that make the most of your penis type, will serve you better than worrying, so get started!
AADAR always have gone to treat sexual concerns naturally and always supported the term that it is stamina, not size that matters when it comes to your performance. With the roots of Ayurveda, we have always solved sexual concerns naturally. AADAR's MY PERFORMANCE collection has a range of products that solves all your sexual issues naturally without any side effects.
We have Health Experts who can easily connect with you and discuss your sexual concerns. You can consult your family doctor first to get the most accurate diagnosis, or you can contact our Health Expert or connect with us at +919867667699.