AADAR Blog
IMPROVING SPERM QUALITY WITH AYURVEDA
by Harsh Shah on Sep 22, 2022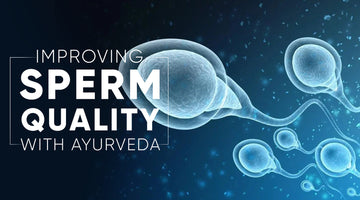 Low sperm count can be caused by a variety of factors, and most men are unaware that certain habits can contribute to this issue. This situation can be improved by taking sperm-boosting herbal supplements. With each ejaculation, a man produces approximately 40 million sperm cells. If the number falls below this threshold, fertility issues may be considered. Unfortunately, numerous factors can contribute to low sperm count, making it the leading cause of infertility in men.
Male fertility problems should not be ignored because they can worsen over time. They require immediate action, and herbal supplements are the most accessible and safe method. In addition, low sperm count, poor sperm quality, or both can reduce a woman's chances of becoming pregnant. In most cases, sperm production and maturation take 42 to 72 days. It is always recommended to increase fertility by improving the health of sperm cells 2-3 months before trying to conceive.
Low Sperm Count Causes
Sperm production or function that is disordered low sperm count can be caused by a variety of factors, including undescended testicles, genetic defects, or repeated infections. Low sperm count can also be caused by genetic inheritance, in which case there is little you can do to eliminate the cause.
The Best Ayurvedic Medicine to Boost Sperm Count
Ayurveda provides a natural boost to the body's immunity, which aids in the treatment of a variety of health conditions. Consider the following ayurvedic remedies for sperm motility and count:
Shilajit is a resin found in Himalayan rocks that have been used for centuries in Ayurvedic medicine to increase sperm count. It has anti-aging properties and increases energy and stamina, which help to counteract the daily stress that affects a man's sexual life. According to research, shilajit can help increase sperm count and motility. Shilajit is typically taken in the form of 100 gms with ghee or a glass of milk. Shilajit is extremely effective at increasing sperm count. Not only does increasing sperm count help to increase sperm quality.
Shilajit is one of the effective herbs for boosting sperm production and thus increasing sperm count. It is also known that shilajit can increase sperm production by up to 62 %.
In the Indian Ayurvedic system, Safed Musli is White Gold. As an Aphrodisiac, it aids in the prevention of sperm morphology and characteristics while limiting oxidative stress and free radicals in sperm. Safed Musli is a natural testosterone booster that treats erectile dysfunction, premature ejaculation, and fatigue. Testosterone is most commonly associated with sex drive and is essential for sperm production. A man's testosterone levels can also have an impact on his mood. Safed Musli is a powerful male testosterone booster.
Ashwagandha, also known as Indian Ginseng, is a well-known adaptogen in Ayurvedic medicine. Its roots are an aphrodisiac that increases testosterone secretion in humans, which helps increase sperm count. The resulting hormonal balance benefits testicular health. Ashwagandha is a popular herbal treatment for stress and infertility. It naturally improves blood circulation throughout the body and improves sperm quality. Apart from curing sperm problems, Ashwagandha consumption improves a person's overall health and well-being. It relaxes nerve cells and reduces the occurrence of a variety of health problems.
Shatavari benefits men's health as well, as it improves sperm and sperm quantity and quality, making it a doctor's first choice or favorite herb for improving fertility in couples. It is a well-known aphrodisiac with rejuvenating properties. Shatavari roots improve sperm count and quality while increasing seminal qualities. Furthermore, Shatavari's anti-anxiety and anti-stress properties make it ideal for the treatment of male infertility.
In Ayurvedic medicine, it is used as an aphrodisiac and is frequently combined with other medications to treat low sperm count. It stimulates spermatogenesis and helps raise testosterone levels in the body, increasing sperm count.
Clinical trials have shown that it can be used to treat erectile dysfunction. It can also be used to treat Premature Ejaculation and increase sperm count in men. Furthermore, it has spermatogenic properties that address low sperm quality and count. It improves sperm quality and production even further.
Shilajit, Safed Musli, Ashwagandha, Shatavari, and Gokshur work together as an antioxidant to reduce oxidative stress and protect sperm. Shatavari stimulates spermatogenesis. As a result, the capsule promotes healthy sperm formation through motility, shape, size, and semen density.
AADAR always encourages you to treat any problem with natural medicines that have no side effects and help you achieve positive results for a longer period. Shilajit, Performance Capsule, Endure, Straight Up, Extra Time, and many other AADAR products have such magical properties that provide the best results for you with no side effects. We have Health Experts with whom you can easily connect and discuss your sexual concerns. To obtain the most accurate diagnosis, you can consult your family doctor first, or you can contact our Health Expert or connect with us at  +919867667699.
6 comments