AADAR Blog
INDIA & HIV
by Harsh Shah on Dec 02, 2022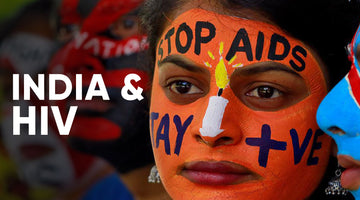 In our previous blog, we discovered that PrEP (Pre-Exposure Prophylaxis) effectively reduces the risk of contracting HIV from sex by 99%. You can read more about it here (PrEP: Highly Effective HIV Prevention? with UTM Link). This blog explains how HIV and AIDS have harmed people in India.
According to The Hindu, famous publications have reported that over 17 lakh people contracted HIV in India in last 10 years by unprotected sex
AIDS is on the decline in India, but there are still 24.01 lakh patients, 51000 of whom are children under the age of 12.
Maharashtra

- 3.94 Lakhs

Andhra Pradesh

- 3.21 Lakhs

Karnataka

- 2.76 Lakhs

Uttar Pradesh

- 1.78 Lakhs

Tamil Nadu

- 1.63 Lakhs 

Telangana

- 1.56 Lakhs 

Bihar

- 1.43 Lakhs

Gujarat

- 1.14 Lakhs
HIV/AIDS is a pandemic in India. In 2017, the National AIDS Control Organization (NACO) estimated that 2.14 million people in India were infected with HIV/AIDS. Despite having the world's third-largest population of HIV/AIDS patients as of 2018, with South Africa and Nigeria having more, India's AIDS prevalence rate is lower than that of many other countries. In 2016, India's AIDS prevalence rate was approximately 0.30%, ranking it 80th in the world. HIV/AIDS is primarily treated with a "Drug Cocktail" of antiretroviral drugs, as well as education programs to help people avoid infection.
The main contributors to India's large HIV-infected population have been extensive labor migration and low literacy levels in certain rural areas, resulting in a lack of awareness and gender disparities. The Indian government has also expressed concern about the role of intravenous drug use and prostitution in the spread of AIDS.
India has received accolades for its extensive anti-AIDS campaigning. According to Michel Sidibé, executive director of the Joint United Nations Programme on HIV/AIDS (UNAIDS), India's success stems from an evidence-informed, human-rights-based approach supported by sustained political leadership and civil society engagement.
The National AIDS Control Organization (NACO) has increased the number of centers offering free Antiretroviral Therapy (ART) from 54 to 91, with 9 more centers set to open soon. These centers now have medicines to treat 8,500 patients. All 91 centers have trained doctors, counselors, and laboratory technicians to assist patients in starting ART and providing follow-up care while maintaining patient confidentiality.
Aside from providing free treatment, all ART centers counsel infected individuals to ensure that they take their medication on a regular basis. The most important factor for the long-term effectiveness of ART drugs is consistency, as disruption can lead to drug resistance. Currently, 40,000 people are on ART, with an expected increase to 85,000 by March.
Factors of Risks
Several factors put India at risk of rapid HIV spread if effective prevention and control measures are not scaled up across the country. These risk factors are as follows:
Unsafe Sex And Less Condom Use: In India, sexual transmission accounts for 87.4 percent of reported HIV cases, and HIV prevalence is high among sex workers (both Male and Female) and their clients. A large proportion of HIV-positive women appear to have contracted the virus from a regular partner who was infected during paid sex. HIV information and awareness appear to be low among sex workers, particularly those working on the streets.
Men Who Have Sex with Other Men (MSM): Although little is known about the role of sex between men in India's HIV epidemic, the few studies that have looked into it have discovered that a significant proportion of men in India do have sex with other men. The extent and effectiveness of India's efforts to increase safe sex practices among MSM will have a significant impact on the scale and progression of India's HIV epidemic.
Injecting Drug Use (IDU): Injecting drugs with contaminated injecting equipment is the main risk factor for HIV infection in the northeast, and it is becoming more common in epidemics in major cities elsewhere, such as Chennai, Mumbai, and New Delhi, as well as in the state of Punjab. In addition to heroin, products injected include legal pharmaceuticals. Current interventions aimed at IDU are inconsistent, as well as too small and infrequent to produce measurable results.
Migration and Mobility: People who migrate for work are removed from the social environments of their families and communities. This can increase the likelihood of engaging in risky behavior. To address the vulnerabilities of the large migrant population, coordinated efforts are required. Furthermore, in India, a high proportion of female sex workers are mobile. By connecting high-risk sexual networks, sex workers' mobility is likely a major factor contributing to HIV transmission.
Infection rates among women and their infants have been increasing in some states as the epidemic spreads through bridging population groups. Unequal power relations and women's low status, as expressed by limited access to human, financial, and economic assets, weaken women's ability to protect themselves and negotiate safer sex both within and outside of marriage, increasing their vulnerability.
Widespread Stigma: HIV-positive people face widespread stigma. The myth that AIDS only affects men who have sex with other men, sex workers, and injecting drug users reinforces and perpetuates existing discrimination. The most vulnerable groups, who are frequently marginalized, have little or no access to legal protection for their fundamental human rights. Addressing human rights violations and creating an enabling environment that increases knowledge and encourages behavior change are thus critical components of the AIDS fight.
Problems And Obstacles: 
Priority Topics:
The capacity of the Institution: To continue scaling up at the national and state levels, the national response faces institutional constraints, both structural and managerial. These factors must be addressed as the program expands its response to the epidemic. The high turnover of state-level project directors results in limited continuity and variability in performance across states. The ability to mount a strong program is weakest in some of the poorest and most densely populated states that are particularly vulnerable to the epidemic.
Data Tailoring: While the national program generates a rich database for monitoring purposes, there is a need for greater data use for decision-making, including the use of program data and epidemiological data at the district and state levels to tailor the response. The epidemiological profiling of districts using data triangulation, which began in 2009, is a positive step.
Stigma and Discrimination: Stigma and discrimination against people living with HIV and AIDS and those considered to be at high risk remain entrenched. Stigma and denial undermine efforts to increase the coverage of effective interventions among key populations such as men having sex with men, sex workers, and their partners, and injecting drug users. Though there is a significant increase in awareness due to efforts by the government, there is much room for improvement, including scaling up to stigma reduction innovations, piloted by communities at risk.
Although India is expanding the coverage of targeted interventions for the most vulnerable populations, it will be critical to sustain these efforts and expand more rapidly in those areas and among those population groups that are lagging behind and difficult to reach; most notably, comprehensive harm reduction programs among injecting drug users and safe sex among men having sex with men.
According to UNAIDS data on the global HIV response, progress against the HIV pandemic has stalled in the last two years of COVID-19 and other global crises, resources have shrunk, and millions of lives are at risk as a result.
We only have eight years until the 2030 target of eliminating AIDS as a global health threat. Inequalities in economic, social, cultural, and legal terms must be addressed as soon as possible. Inequalities exacerbate the dangers for everyone during a pandemic. Indeed, AIDS can only be eradicated if we address the inequalities that fuel it. World leaders must demonstrate bold and accountable leadership. And all of us, everywhere, must do everything we can to help combat inequalities.
AADAR believes that it is always better to be safe than to be smart and put yourself and your loved ones in a situation where there is no way out. If you have multiple partners, it is always preferable to have safe sex and get tested on a regular basis rather than risking lifelong complications. Because PREVENTION IS BETTER THAN CURE.
We have Health Experts who can easily connect with you and discuss your sexual concerns. You can consult your family doctor first to get the most accurate diagnosis, or you can contact our Health Expert or connect with us at +919867667699.