AADAR Blog
IT'S HIGH TIME WE INDIANS NEED TO BE SEXUALLY EDUCATED
by Harsh Shah on Nov 11, 2022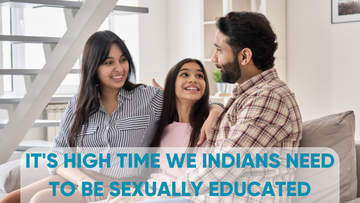 As a signatory to the 1994 UN Convention on the Rights of the Child, India is obligated to provide adolescent sex education. But, do you believe this is taken seriously? India still has the highest rate of teen pregnancy, HIV/AIDS infection, and child and sexual abuse.
It is not shocking that sex is a taboo subject in India. It is evident in how we approach the subject from a young age or when we first learn about it. But, in this day and age of the Internet, social media, and limitless access to information, how can we be certain that children are receiving accurate information about everything, including sex and sexuality?
It is past time to begin sex education in senior high school because, in this day and age of the internet and abundant free information, students are receiving incorrect information about sex from a variety of sources. Because they are not guided on this subject, they believe whatever they read or watch. However, it is critical to guide them as they grow older. So, in India, we need to take sex education much more seriously and work on developing a comprehensive sex education curriculum that is appropriate for the country. It is also critical that everyone - children, parents, and teachers be involved in the development and design of this curriculum.
"SEX," a distinct scruffy word in Indian society, is used to denote more than just the two genders.
Sex education, including spiritual aspects, should be integrated into both health and moral education from kinder garden to grade twelve, ideally in co-ordinating with parents and teachers. Specifically, male and female, but also our third biological need, reproduction. Unlike the first two biological needs of hunger and thirst, sex is necessary not only for survival but also for the survival of the human race. It stimulates menstruation in women and nocturnal emission in boys. When teenagers reach puberty, it prepares the body for copulation.
In India, topics like sexual intercourse are often avoided because it is considered humiliating and immoral to discuss, especially with the society's elders. Yakking and even expressing one's own sexuality and sexual orientation is labeled as vulgar and shameful. This petrification frequently compels young adults to suppress their needs and desires and does not allow women to freely express their menstrual cycle concerns, rendering them helpless in their struggle to maintain proper intimate hygiene. 
Just because sex isn't necessary for survival doesn't mean it should be avoided. Every individual has a unique set of morals. To satisfy his hunger, a man can even steal. Excessive suppression can result in harrowing problems, with disastrous consequences not only for the individual but also for society as a whole. In India, a lack of knowledge about sexual health and freedom poses a significant risk of STDs (Sexually Transmitted Diseases) to the uneducated. Furthermore, because their parents avoid discussing the subject, young adults seek information from a variety of sources, some of which contain graphic details.
Their curiosity can be harmful when they try to find answers on the internet and social media. Online content contains devious facts that can be misleading because they serve no purpose other than to create insatiable fantasies. As a result, there is a chance of falling in love with lust.
The National Council for Education, Research, and Training incorporated sex education into the curriculum rather than as a separate subject in 2007. Sex education, on the other hand, was widely condemned and outlawed in states such as Gujarat, Maharashtra, Madhya Pradesh, and Goa. On the advice of Dinanath Batra of the Rashtriya Swayemsevak Sangh, Madhya Pradesh chief minister Shivraj Singh Chouhan removed sex education from the curriculum in May 2007. Not only parents but also teachers have spoken out against its implementation, claiming that it is a provocative way for multinational corporations to promote the sale of condoms and that it will increase the curiosity of innocent students. Even discussing HIV/AIDS and STDs is considered impolite and shameful.
FLE (Family Life/Sex Education), introduced into the Indian curriculum by the Ministry of Human Resource and Development and the National AIDS Control Organization, is now part of the current structure of national programs in India. Its goal is to help adolescents develop emotional stability and decision-making skills and provide solid knowledge about the physical, psychological, and social aspects of sexual behavior so that it can be viewed as an integral part of the individual and acceptable in society. However, this curriculum has flaws of its own.
Superstitions (such as believing that children are God in disguise) and a desire for a male child are also consequences of India's failure to implement family planning and sex education. Because of this societal resistance, even the use of contraception and vasectomy is restricted to a small group of people. The main impediment to the development of sex education is the mental imbroglio caused by preconceived notions about copulation, which must be overcome as soon as possible. To ensure a progressive society, transforming the psyche and views necessitates social flexibility and openness to welcome changes.
We have Health Experts who can easily connect with you and discuss your sexual concerns. You can consult your family doctor first to get the most accurate diagnosis, or you can contact our Health Expert or connect with us at +919867667699.
On this
National Education Day
, we want everyone to have basic sex education for which one should not feel taboo or ashamed. It's the basic sense of education that everyone needs to have.
AADAR
has always believed in sensitizing both genders and teaching them to respect one another from a young age is a critical step in combating taboos and superstitions surrounding sex and sexuality in India. Furthermore, with the number of rapes on the rise in India and the country's reputation as the most dangerous place in the world for women, education about consent, and enthusiastic consent at that, is critical to improving the nation's sexual and social health.