AADAR Blog
What are the Topmost Health Concerns Faced by Indian Men?
by Dr. Diksha Tiwari on Sep 22, 2021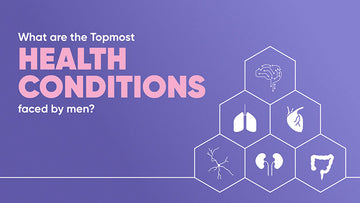 What are the topmost health conditions faced by men between the age of 25-40 in India?
Every man will have his reasons for the condition of his health. But if they took the time to at least become more aware of conditions they are at risk for, they could start earlier in life to make lifestyle changes to prevent them, to begin with.
Here are five top health risks men between the ages of 25-40 face in India:
1: Cardiovascular disease:
Cardiovascular diseases (CVDs) have now become the leading cause of mortality in India. Ischemic heart disease and stroke are the predominant causes and are responsible for >80% of CVD deaths. The Global Burden of Disease study estimate of age-standardized CVD death rate of 272 per 100 000 population in India is higher than the global average of 235 per 100 000 population. 
According to the Indian Heart Association, "50% of all heart attacks in Indian men occur under 50 years of age and 25% of all heart attacks in Indian men occur under 40 years of age.
Statistics suggest that the rate of heart diseases in India is double that of the national averages of western countries, a heart attack is majorly caused due to coronary heart disease, where the flow of oxygen-rich blood to a section of heart muscle suddenly becomes blocked and the heart can't get oxygen.
2: COPD (Chronic obstructive pulmonary disease):
Over 5.5 crore people in India live their lives struggling to breathe as they battle progressive lung diseases. Their condition falls under the umbrella term Chronic Obstructive Pulmonary Disease or COPD, and it's a health burden India cannot afford.
According to a report, deaths by chronic respiratory diseases contributed to 10.9 percent of total deaths in 2016 in India. Chronic obstructive lung disease (COPD) and asthma were responsible for 75.6 percent and 20 percent of chronic respiratory diseases. COPD cases have almost doubled over the past 25 years. It went from 28 million in 1990 to a whopping 55 million from 1990 to 2016.
For men, besides smoking, occupational exposure to crop dust, dust from mines, chemicals, etc contribute to the disease. In India, unlike the west,21% of chronic lung diseases are caused by something that's in your control - smoking. Wheezing in smokers is an early sign of COPD and will leave you huffing and puffing for air.
3: Erectile dysfunction:
Erectile dysfunction ED is not life-threatening unless it is caused by a major issue with a man's cardiovascular system. While this condition usually doesn't harm a guy's life it can certainly harm his relationship and/or self-esteem.
According to a study, around 20-30% of marriages in India are breaking due to lack of satisfaction in sexual life. As per study analysis in the male population, physical health is majorly responsible for ED.
Erectile Dysfunction or Sexual Impotence afflicts as much as 15% of the male population above the age of 40. The finding of Alpha One Andrology Group study says that ED affects 50 % of men over the age of 4o and 10% of men below 40. According to the same report, diabetes is the leading and hypertension is the second leading cause of Erectile Dysfunction.
4: Depression:
Male depression – or depression in men – is a hidden epidemic. The reason this type of depression is classified as male is that it frequently presents itself differently in men. And the reason it's called the "Hidden epidemic" is that there is under-reporting of this condition among men, as compared to women.
According to the study conducted by the World Health Organization (WHO) around 200 million people in India may suffer from depression, i.e. one in five people. 
While women attempt suicide more often, men are four times more likely to die from it. 75-80% of suicides are by men. A study of depression suggests that while men and women have some common symptoms, the condition often manifests itself differently for them it usually presents itself in men by way of:
A: Irritability, hypersensitivity, and anger outburst
B: Loss of interest in day-to-day activity.
C: Emotional withdrawal and numbness
D: Trouble sleeping
E: Low libido
Reference:
https://pubmed.ncbi.nlm.nih.gov/27142605/
https://www.thelancet.com/journals/langlo/article/PIIS2214-109X(18)30409-1/fulltext
https://timesofindia.indiatimes.com/city/mumbai/among-men-depression-is-a-hidden-epidemic/articleshow/71133408.cms
https://timesofindia.indiatimes.com/topic/Alpha-One-Andrology-Group