AADAR Blog
AYURVEDIC WAY OF WATER INTAKE
by Harsh Shah on Aug 22, 2022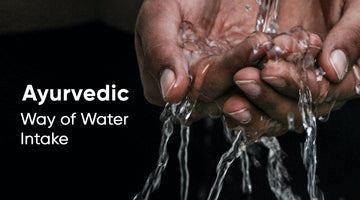 Several people struggle with how much water to drink. While this is crucial, we must also be conscious of 'how' water is used. According to Ayurvedic principles, the manner you drink water has an impact on your entire health. Ancient Ayurveda provides several guidelines for drinking water tips that have been followed for ages.
Water can be found in the body in the forms of plasma, cell, serum, saliva, nasal discharge, cerebrospinal fluid, urine, and perspiration. It is thus required for the absorption of nourishment and the maintenance of life; without it, our cells cannot live. Given the importance of water in human existence, here are some useful but crucial Ayurvedic water drinking guidelines.
Here are some Ayurvedic Ways For Water Intake
Always Sit & Drink Water
It is preferable to sip water while sitting rather than standing. Standing and drinking disrupt the body's fluid balance, which may lead to an increase in the fluid collection in the joints, producing arthritis. Sitting and drinking relax your muscles and nervous system, allowing the nerves to easily digest meals and other fluids. Your kidneys also help accelerate the filtration process when you sit.
Consume Water Sip By Sip Rather Than Gulping In Once.
Instead of gulping down big amounts of water in a single breath, take smaller sips and repeat throughout the day. This is also true while eating your meals. According to Ayurvedic health experts, The body contains three doshas: Vata, Pitta, and Kapha, and how you take water should be in line with these doshas. It is thus important to have a Prakriti analysis performed by a Professional Ayurvedic Specialist and seek correct assistance for improved well-being.
Prefer Room Temperature Or Slightly Warm Water.
Avoid ice-cold water, which disrupts the digestive process and destroys the fire. Cold water reduces blood circulation to many organs of the body, contributing to constipation. Drinking warm water aids digestion and metabolism improves weight reduction and relieves bloating and discomfort.
Only Drink When You Are Thirsty
When your body is in desperate need of water, it gives you signs. Water should only be consumed when you are thirsty, according to Ayurveda. Because everyone's body is different, consuming the same amount of water cannot be suggested to everyone. Because the body cannot absorb too much water, it is important to recognize your body's thirst signs. Test your drinking system without becoming overly full. You may also be aware of Ayurvedic detoxification treatments.
Understand Your Body When & How Much It Needs Water
When your body needs water, it gives you signals. One is the color of the urine; dark yellow pee may suggest dehydration, whereas clear, straw-colored urine indicates a hydrated and satisfied body. Dry, chapped lips are one sign of a dehydrated body. Take note of these indications since they might lead to health issues.
Morning First Task To Drink a glass of Water In The Morning.
Ayurveda recommends drinking water first thing in the morning, which is known as Ushapan. It aids in the elimination of numerous ailments in the body. Drinking water in the morning aids in the removal of toxins from the body and the cleansing of the intestines.
Prefer To Store Water In Copper Or Silver Vessels
Drinking water preserved in Copper (Tamba) or Silver (Chandi) pots have traditionally been recommended by Ayurveda. The water held in these vessels has the power to positively charge the water and so balance all three doshas in the body. Copper possesses several antioxidants and anti-bacterial qualities that assist improve the body's immune system. It has anti-cancer capabilities as well. Water in the silver vessel can eliminate free radicals from the body, as well as provide a cooling effect on the intestines and smoothen the digesting process.
Conclusion
Unfortunately, in today's fast-paced world, it's tough to pause and reflect on such seemingly little matters. Now that you understand how critical it is for your body to receive all of the benefits of water, we hope you make some time for yourself and your water bottle. The studies will continue to yield varying answers to the topic of "How much water should we take daily?" 
Hydrate your body correctly, include awareness in your drinking and eating habits, and notice that positive change. Then, and only then, will you be able to begin healing the physical body? The regulations are straightforward, if not clear. They can, however, have a significant impact on how we feel regularly. The main thing is to become conscious of what we eat and drink, as well as to listen to our bodies messages. Do not dismiss thirst.
If you are still confused about the water intake amount then you can get consulted first with your family doctor or you can even contact our Health Expert or connect us at +919867667699 to get the best diagnosis.