AADAR Blog
AYURVEDIC WAY TO BUILD MUSCLES NATURALLY
by Harsh Shah on Jul 28, 2022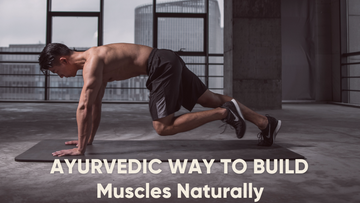 Using protein powder in your milk or smoothie may appear to be a simple way to improve your health. After all, protein is required for muscle growth and maintenance, bone strength, and a variety of other bodily functions. Furthermore, many older adults do not consume enough protein due to a loss of appetite. Protein powder is used more in higher concentrations in muscle-building supplements than in weight-loss supplements.
The global protein supplements market is expected to reach $32.6 billion by 2027. With so many people incorporating protein powder into their gym, diets, we've been wondering if there are any risks to consuming protein powder daily. We consulted registered dietitians to get more information on how eating too much protein powder can be harmful to your health.
So What Exactly Is PROTEIN POWDER?
Protein powders are nutrient powders made from plant-based like soybeans, peas, rice, potatoes, hemp, eggs, or milk casein or whey protein. Other ingredients that may be present in the powders include added sugars, artificial flavoring, thickeners, vitamins, and minerals. Protein content per scoop can range from 10 to 30 grams. The American Heart Association recommends a daily sugar limit of 24 grams for women and 36 grams for men. 
What Can Be The Health Hazards?
When using protein powder, there are there have been several risks. Protein powder is a type of dietary supplement. The FDA cedes to manufacturers in determining product safety and labeling. As a result, there is no way to tell if a protein powder contains what the manufacturer claims. It may cause digestive discomfort. People who are allergic to dairy or have difficulty digesting lactose (milk sugar) may experience gastrointestinal discomfort if they use a milk-based protein powder. It may contain a lot of added sugars and calories.
Some protein powders have little sugar added, while others have a lot as much as 23 grams per scoop. Some protein powders can turn a glass of milk into a soft drink with over 1,200 calories resulting in unhealthy sugar levels spike.
So does that mean there is no way to build muscles safely and naturally, especially for gym lovers? Or do you have to risk your health to build those good muscles? Then you are wrong if you think so. because Ayurveda has its way that will help you build muscles naturally without any side effects. Ayurvedic supplements are derived from natural sources such as food, herbs, and minerals. They are not like performance-enhancing drugs, which produce instant results.
Ayurveda prescribes specific herbs to help with energy and muscle mass building. You can take them as tablets or blend them into your morning smoothie, here are some of them
ASHWAGANDHA
A reigning herb is also known as Indian ginseng. It is commonly found in all gym-going people as supplements. This herb can increase testosterone levels, which in turn increases stamina levels.
SHATAVARI 
Shatavari is a popular Ayurveda bodybuilding supplement that is high in antioxidants. It also aids in the repair of damaged cells. This natural herb contains chromium, vitamins K, E, C, and A. It also contains amino acids, which can absorb excess salt and water in the body and flush out urine. It also aids in achieving that ripped appearance. It is considered one of the best Ayurvedic herbs for muscle building.
GOKHRU
It's a renowned bodybuilding herb that is found in Ayurvedic supplements and medicines. It is known to help with muscle building and endurance. It is also known to provide a fresh burst of oxygen supply to the blood circulation. It also aids in keeping the tissues hydrated. Gokhru Pak is a medicine made from Gokhru.
SAFED MUSLI 
In Ayurvedic literature, Safed Musli is known as 'Divya Aushad.' It is rich in medicinal properties and has a high medicinal value. It is also an Ayurvedic supplement herb that can help with muscle strength and tissue formation.
With years of knowledge and research on Ayurvedic Health Products, AADAR  has created a magical formulation. AADAR's POWER BUILD has all such required herbs that not only help you gain good muscle building but also build you naturally with no side effects.
You can connect with our Health Expert or connect us at +918097833955 to get the best results.