AADAR Blog
STRENGTHEN YOUR CHARACTER WITH DISCIPLINE
by Harsh Shah on Jul 20, 2022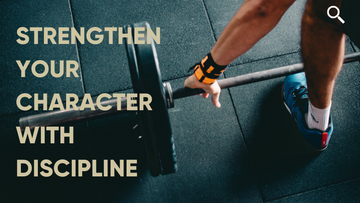 Building a character is not a one-day job. It takes effort and time where you develop yourself over the period. Being a strong personality with a strong character is what attracts everyone. But people often misinterpret discipline as strict and boring life which disconnects you from the world socially and not enjoying your favorite things. American businessman and author Robert Kiyosaki, once said "Confidence Comes From Discipline And Training." Do you have the same mindset for the word DISCIPLINE?
Taking steps to develop your character is not so easy. But once you are into it and stick to your discipline, making your foundation strong then nothing stops you. It's just you need to know what is right for you rather than what is easy and convenient for you. Taking baby steps to build up yourself is not harmful if you are clear with your goals and work on them continuously. 
To develop character in anything, you must first recognize what you are struggling with. For example, if you are struggling professionally then try to identify your weakness and analyze them accordingly. Understand where you lack and work on it and maintain consistency. Yes, consistency is the key where you will keep growing and overcome your weakness. 
So what does it take to be a so-called Disciplined Man?
- Start Taking Actions Rather than Just Making Decisions
- Don't Chase Goals, chase Sub-Goals Instead 
- Work & Grow With People Around You
- Set Time Limit For Goals/Tasks
- Be A Good Decision Maker
- Self Control Is Must
Final Thoughts:
Discipline and strength of character are not something you can learn overnight. It is a set of regular habits that will help you stick to your goals. Jim Rohn, an American entrepreneur and motivational speaker once said,  "Discipline is the bridge between goals and accomplishment." 
When you are clear with your life goals then it will be much easy to stick to a routine in a disciplinary way because you know what you want and what it will take to achieve that. Making mistakes is fine, but giving up is not. So just consistency in your action to achieve your goals is what you should chase and self-discipline is the only way to achieve it. One blunder is not the end of the world.
AADAR, being a Men Wellness Platform has always encouraged a disciplinary lifestyle that not only makes you alluring but an example of disciplinary Men that everyone wants to be.