AADAR Blog
DOES AYURVEDA HAVE A CURE FOR ERECTILE DYSFUNCTION?
by Harsh Shah on Jul 22, 2022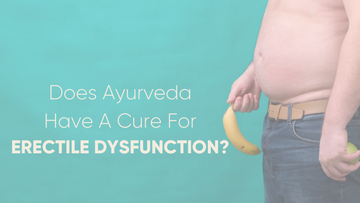 Understanding Erectile Dysfunction
Erectile dysfunction (ED) is the most common male sexual problem worldwide. Men with this the condition cannot get or maintain an erection firm enough to enjoy satisfactory sexual intercourse.
It is more common than we think, and here are some statistics that prove the same:
Around 20% of all men have erectile dysfunction, and 30% of them are below 40.

According to a report by Cleveland clinic in 2019, 1 in 10 men is likely to experience e

rectile dysfunction at some point in their lifetime.
Erectile Dysfunction in India
Though India is close to crossing China as the most populous country in the world, the number of men suffering from infertility issues, including ED, is on the rise. While treating erectile dysfunction is easy and affordable, most men are shy about addressing this situation and seeking appropriate medical care.
53% of Indian men are unaware of this condition, and 42% prefer low-cost substitute medicines given by pharmacists to those prescribed by their doctor. Despite the prevalence of this problem, it is a taboo topic.
However, a Pfizer-UpJohn study in India revealed that 78% of Indian women are aware of this problem and 82% said they would encourage their partners to seek medical care.
Ayurvedic Treatment and Cure for Erectile Dysfunction
Ayurveda has an effective cure for the condition. The practice of Ayurveda has a comprehensive and holistic approach to treating medical conditions. Vajikarna therapy is one of the eight specialties of Ashtanga Ayurveda and deals with aphrodisiacs, virility, and treating sexual dysfunction issues like Erectile dysfunction.
Several herbs and Ayurvedic formulations provide erectile dysfunction treatment by identifying and treating its underlying cause, rectifying the problem, and helping improve sperm parameters to help you enjoy healthy sex life and promote healthy progeny. Aadar is one such ayurvedic brand focused on this issue, and the brand is successful in winning the hearts of thousands of men with its amazing FDA-approved products for Erectile dysfunction.
While there are several herbs used in the treatment of Erectile dysfunction, Aadar's Straight Up, Endure capsule(https://aadar.co/collections/my-performance) contains the power of several such herbs as Ashwagandha, Ginseng, Kaunch, Musli, Shatavari, and Gokhru making it one of the must try if facing ED
Key Takeaway
Ayurveda has been successfully treating this condition for centuries. Ayurveda also supports and complements the effect of sildenafil citrate tablets for ED.
Still feeling shy to talk about it and want to know more about erectile dysfunction or any such issues like an erectile penis, sperm related problems than consult on Aadar's platform (https://aadar.co/pages/consult-a-doctor)