AADAR Blog
FOODS RECOMMENDED BY AYURVEDA TO HAVE STRONGER HAIR
by Harsh Shah on Jan 09, 2023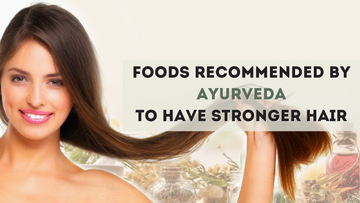 Overall health leads to healthy hair. You cannot treat your hair separately, no matter how hard you try. Your hair needs comprehensive care. And having healthy hair is merely a side effect of being healthy.
External Ayurvedic treatments for hair health, such as hair oils, masks, etc., are very effective. But the issue is fully addressed when this is combined with a healthy diet and way of life. According to Ayurveda, healthy food is the secret to having good hair because it promotes the flow of Prana, or life energy.
Keep in mind that when you look for foods that will strengthen your hair, you can also anticipate having healthier bones and skin. So let's start talking about the foods that support the health of your hair and body.
Virgin coconut oil guards against split ends and hair breakage. With all the products we frequently use on our hair, it aids in preventing damage to the hair strands, which can happen quite frequently. Additionally, this oil has the power to thicken hair and prevent graying.
This virgin coconut oil calms irritated scalp and boils. All people with curly hair love oils because they help reduce frizz. Hair oils are your best friends and can make you more manageable if you have coarse, curly, or wavy hair. Textured hair is more frequently on the drier side than straight hair, so it requires more work and maintenance.
Cold-pressed virgin coconut oil works wonders for detangling textured hair while it's still wet. Once the hair dries, the oil helps the curls or waves set like they were combed, giving you gorgeous, defined curls and waves without causing them to frizz later.
Sesame oil has the ability to darken hair. As a result, it works well as a preventative measure for premature graying. It also aids in maintaining your hair's natural color. Although hair graying frequently occurs as people age, it can also occur earlier due to both internal and external factors. Again, regularly massaging sesame oil into your scalp will hasten hair growth and give you thick, dense hair if you are experiencing hair thinning and eventual baldness. Your hair is impacted by heat and dryness, becoming brittle and dull.
Sesame oil works well for treating that as well! Its cooling and conditioning qualities make sure that overheating won't have a negative impact on your hair. UV rays have a negative impact on both skin and hair. Additionally effective at shielding hair from the sun is sesame oil. It functions as a natural sunblock. Sesame oil is also very advantageous in terms of preventing hair loss. Stress and anxiety are two of the main factors that cause hair loss.
Because almond oil is emollient, it can fill in cellular gaps in your hair. Your hair feels smoother to the touch as a result. Over time, applying almond oil to your hair makes it softer. You might also observe that your hair is simpler to comb through and style once you start using almond oil in your daily hair care regimen.
By applying specific oils to your hair, you can reduce split ends and make your hair less brittle. Almond oil, for example, has lubricating qualities that reduce friction while styling hair. There are no clinical studies that demonstrate almond oil's ability to promote hair growth. The good news is that almond oil can strengthen hair and reduce the likelihood of split ends, so your hair growth won't be slowed down by shedding damaged hair.
Amla (Indian Gooseberry): The Vamana Purana states that if we had nothing else to eat besides Amla, we could survive solely on its fruit juice. Amla is a special fruit in Ayurveda's view. Because it has all six flavors astringent, bitter, salty, sour, and bitter—it is known as a rasayana fruit. Because it contains all six tastes, the amla can be used to balance the doshas of any prakriti with any type of constitution.
Because it serves as a wet nurse, the amla is known as the "Dhatri" in Ayurveda. It is second only to our own mother in how well it gives us nutrition, life, and health.
Fenugreek, also known as methi dana, is a priceless spice that, while it may not have come from India, has developed into a vital component of our cuisine and culture as if it had always belonged to us. It is therefore not surprising that Ayurveda, which dates back thousands of years, recognized its potential and has continued to make the most of its health and beauty benefits in its practice. Vitamins A, K, C, folic acid, and folic acid are all abundant in fenugreek seeds. They also serve as a storehouse for minerals like calcium, iron, and potassium.
Additionally, fenugreek seeds are rich in protein and nicotinic acid, whic h are known to be helpful in treating a number of scalp conditions like dry hair, baldness, and hair thinning as well as preventing hair loss and dandruff.
Conclusion
The ayurvedic herbs mentioned above are an effective hair ingredient that can treat a variety of hair issues without having any negative side effects. So starting to incorporate it into your hair care routine is a great idea. There are many options available, including natural hair treatments as well as oil containing all the aforementioned organic ingredients. Who would have imagined that this amazing Ayurvedic ingredient, which has a mysterious appearance and no scent, would work like magic to solve all of your hair-related problems?
To improve and enhance your hair health  consume natural and healthy supplements. AADAR has the best Ayurvedic remedies and products that not only treat your hair fall but nourishes much well naturally. AADAR has a wide range of products that treat your health concerns naturally and effectively for a long time.
We have Health Experts who can easily connect with you and discuss your all health concerns. You can consult your family doctor first to get the most accurate diagnosis, or you can contact our Health Expert or connect with us at +919867667699.