AADAR Blog
GOOD SEX - KEY TO HAPPY RELATIONSHIP
by Harsh Shah on Nov 23, 2022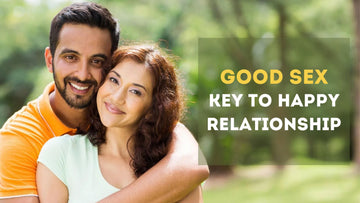 When your partner wants to get it on, all you want to do is binge-watch your latest Netflix obsession. Sex appears to be time-consuming and irritating. Or maybe your partner is always too tired or stressed to have sex when you really want it. It's important to have sex in long-term relationships, even if you're not necessarily randy. Maintenance sex should not be the only type of sex you have, but it should be available.
What Is The Recipe For A Successful Marriage? 
According to a new study, sex is an important component. 
Sexual intercourse produces an afterglow that lasts for two days, according to research. Furthermore, the afterglow may increase long-term relationship satisfaction.
A number of studies have shown that sex contributes to short-term bonding between partners, but the majority of couples do not engage in sexual activity every day, according to the researchers.
So, What Binds Partners Apart From Sexual Activity?
Meltzer and colleagues hypothesized that sex produces an afterglow, or a period of sexual satisfaction, that improves partner bonding in the intervals between sexual activity, and that this boosts long-term relationship satisfaction.
The researchers put this theory to the test by analyzing data from two studies that included a total of 214 newlywed couples. The couples were required to keep a daily diary for 14 days as part of the studies. Every day, spouses were asked if they had had sexual activity with their partner and how satisfied they were with their sex life.
In addition, each couple's marital satisfaction was assessed at the start of the study and again 4-6 months later at a follow-up assessment. Stronger sexual afterglow is associated with higher marital satisfaction. Couples reported having sex on an average of four days during the 14-day study period.
Not only was sexual activity linked to same-day sexual satisfaction, but the researchers also discovered that a single act of sex produced an afterglow that lasted for two days. This finding held true after controlling for a variety of potential confounding factors such as age, gender, sexual frequency, personality traits, and length of the relationship.
When the researchers examined marital satisfaction, they discovered a general decline between the study's baseline and the follow-up assessment. Couples were also asked to rate their relationship, marital, and partner satisfaction on a daily basis.
They discovered, however, that couples who reported a stronger sexual afterglow were more likely to report greater marital satisfaction 4-6 months later than couples who reported a weaker sexual afterglow.
According to Meltzer, the study findings are significant because they support previous research indicating that sex plays an important role in partner bonding. Expert's findings show that sexual satisfaction remains high 48 hours after sex. People who have a stronger sexual afterglow, or who report a higher level of sexual satisfaction 48 hours after sex, also report higher levels of relationship satisfaction several months later.
Sexual desires and preferences are, by definition, personal and unique. While studies can show associations and trends in this field, they will not be able to disentangle the reasons for an individual's sexual satisfaction.
AADAR always has gone to treat sexual concerns naturally and our experts solve our issues without any hesitation. With the roots of Ayurveda, we have always solved sexual concerns naturally. AADAR's MY PERFORMANCE collection has a range of products that solves all your sexual issues naturally without any side effects.
We have Health Experts who can easily connect with you and discuss your sexual concerns. You can consult your family doctor first to get the most accurate diagnosis, or you can contact our Health Expert or connect with us at +919867667699.