AADAR Blog
KRISHNA'S FAVOURITE MAKHAN HAS MANY BENEFITS TO BE YOUR FAVOURITE TOO
by Harsh Shah on Aug 19, 2022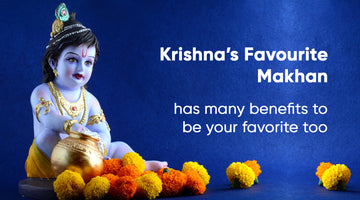 When we think of Janmashtami, we think of Makhan, the delicious yum that Lord Krishna adored to the point of stealing it. Krishna adored Makhan and was known as 'Makhan chor' because he used to steal Makhan from the 'Gopies.' Aacharya Vagbhata described the properties of Makhan in Ayurvedic Samhitas (Butter)
Makhan and ghee, according to health experts and renowned dieticians, are foods that are extremely beneficial to our bodies. While the diet and weight loss industries have shunned it to oblivion, making it the most feared food for dieters all over the world, our ancestors used it liberally in the form of white butter and ghee.
Makhan, or white butter, is made by churning curd; the resuspended part is white butter, and the byproduct is Chach (Buttermilk), which is also beneficial. Only pasteurized butter is harmful because it is produced through various chemical processes, whereas white butter is produced through the natural churning process. Makhan, or white butter, is high in anti-aging vitamin A and enzymes, which improve not only the taste of food but also the quality of life. 'The food of the gods!'
According to Ayurveda, butter, or Makhan, is a food that everyone should consume on a daily basis. So much so that ancient literature encourages people to take out a loan in exchange for a spoon of butter or ghee every day. Not without reason, either!
Improves Immune System
Butter has a unique biological structure of saturated fat. This structure aids in the retention of calcium, phosphorus, and vitamins A and D. All of these elements help to boost the immune system.
Aids Healthy Calories
As we all know, butter is high in calories. According to experts, high-calorie foods are also those that are much more beneficial to the body. Every 100 grams contains approximately 750 calories. 
Aids In Weight Loss
Yes, you heard right! White butter contains lecithin, a substance that aids in the proper assimilation and metabolism of cholesterol and other fat constituents. This causes you to break down and use fats more efficiently, allowing you to lose weight. It also satisfies any cravings you may have while dieting, which aids in the weight loss process. It also satisfies any cravings you may have while dieting, assisting in the weight loss process.
Get Glowing Skin
Butter contains the essential mineral selenium, a powerful antioxidant, as well as vitamin E, which helps to smooth out the skin and keep it healthy and elastic. This gives the skin a healthy glow. Learn about natural ways to make your skin glow.
Develops The Brain and Nervous System In Children
Because butter contains Arachidonic Acid, which is essential for brain function and the maintenance of a healthy cellular structure, it is excellent for the proper development of a child's brain. Aside from that, it contains a unique, highly absorbable form of vitamin D, which is required for proper synaptic function. Because children's brains are still developing, providing them with the necessary nutrition is critical.
Improves Your Intellect & Sharpness
The molecular structure of butter allows it to pass through layers of tissue that are otherwise impermeable, such as the brain. It aids in the transportation of nutrients to the brain and the removal of wastes, allowing the brain to function optimally. Here are some ideas to help you exercise your brain.
AADAR has always believed in Ayurveda and its numerous advantages that everyone should go for. We want more and more people to encourage their kids as well. We wish you a very 𝙃𝙖𝙥𝙥𝙮 𝙆𝙧𝙞𝙨𝙝𝙣𝙖 𝙅𝙖𝙣𝙢𝙖𝙨𝙝𝙩𝙖𝙢𝙞. May Lord Krishna always shower you with his most precious blessings and provide you with the strength to walk the right path in life.
1 comment