AADAR Blog
SHATAVARI - DECODING THE SCIENCE-BACKED FACTS
by Harsh Shah on Aug 18, 2022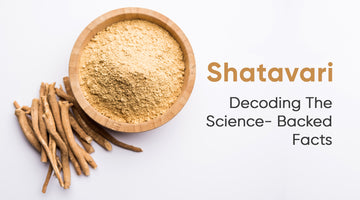 Shatavari has been used for thousands of years as a medicinal herb; a powerful rasayan promoting strength, youthfulness, memory, and intelligence; and hridayam, which is heart uplifting. Shatavari is a female reproductive tonic whose name means "She Who Has Hundreds Of Husbands" or "Curer Of One Hundred Diseases." Shatavari is known as the "Queen of Herbs" in Ayurveda because it promotes love and devotion. This herb is beneficial to women of all ages. It is used to treat fever, indigestion, and gastric ulcers due to its sweet and cooling properties. Adaptogenic, antiulcer, antioxidant, antidepressant, antidiarrheal, immunomodulatory, anti-candidal, and anti-diabetic properties.
History Of Shatavari
Shatavari grows at lower altitudes in the shade and in tropical climates throughout Asia, Australia, and Africa. Aracemosus, one of several species grown in India, is the most commonly used in indigenous medicine. The root, which is related to asparagus, has long been used as a traditional reproductive tonic for women of all ages. Ayurveda, or the "Science of Well-Being," originated in India over 5000 years ago.
With documented use dating back to the Rig Veda (c. 1500-1200 BCE), one of the oldest existing texts in any Indo-European language, and the Atharva Veda, or "Veda of Magical Formulas" (c. 1200 BC - 1000 BCE). Its use in Ayurveda is specifically described in the great texts of the Brihat Trayi: Charaka Samhita (600 BCE), Sushruta Samhita (500 BCE), and Ashtanga Sangraha (400-500 AD), in addition to texts from the Laghu Trayi: Sharngadhara Samhita (14th c. AD). It is still widely used by locals in India and Southeast Asia today. Shatavari has been found to be a miracle cure for a variety of health issues in modern medical research, and thus several studies have been cited
So, What Makes Shatavari So Special?
Shatavari has wonderful nourishing and strengthening properties. It contains plant compounds that are active and can help with hormonal balance. Shatavari is also an active metabolite, which means it helps us manage stress, making it especially useful if hormone imbalances are stress-related. Many of these properties are shared by Ashwagandha, another well-known rejuvenating adaptogen from the Ayurvedic tradition. (To read about Ashwagandha in detail you can visit our Blog)
Shatavari Benefits and Applications
Shatavari is a well-known herb for its nutritive tonic properties. It is specifically recommended for improving lactation in nursing mothers. This effect, known technically as look closely, is attributed to its action on the prolaction hormone level. Furthermore, Indian Ayurveda recommends it to improve physical stamina and immunity. The role of Shatavari in improving immunity functions has also been scientifically proven.
Shatavari Benefits & Uses
Antioxidant
The shatavari root contains three antioxidants: racemofuran, asparagamine A, and racemosol. Antioxidants can assist your body in preventing damage and disease.
Reduced Cholesterol
Shatavari root powder contains compounds such as saponins, flavonoids, and ascorbic acid, which increase cholesterol absorption. Asparagus Racemosus reduces bad cholesterol while increasing good cholesterol production, lowering the risk of heart disease.
Digestion Aids
One of the Shatavari benefits is improved digestion. Asparagus aids digestion by increasing the activity of digestive enzymes such as lipase and amylase. Lipase aids in the digestion of fat, whereas amylase aids in the digestion of carbohydrates. More information on how to improve digestion can be found here.
Improves Immunity
Sapogenin, found in Shatavari roots, is a powerful agent for stimulating immune cells. Asparagus Racemosus boosts the body's resistance to disease-causing agents. Mediating effects also stimulate infection-fighting cells by outnumbering infection-causing cells.
Female Reproductive System
Flavonoids, which help regulate estrogen, are the main components of Shatavari. This modulation aids in the control of menstrual cycles, the management of PMS symptoms, the relief of menstrual cramps, and the reduction of blood loss.
Aids In lactation.
Aids In lactation. Breastfeeding mothers use Shatavari powder to increase milk production. Shatavari stimulates the production of prolactin, a hormone essential for breastfeeding.
Antiviral
Shatavari contains antiviral properties and can be used to treat or prevent viral infections.
Boosts Immune System
In Ayurveda, Shatavari is used to boost immunity. A study found that animals given Shatavari root extract had higher antibodies to a strain of whooping cough than untreated animals. (https://www.sciencedirect.com/science/article/abs/pii/S0378874104000212?via%3Dihub) The treated animals recovered faster and had better overall health. This suggested a more effective immune response.
AADAR has a firm belief in Ayurveda and its magical herbs like Shatavari. Which is why we always have Ayurvedic herbs like Shatavari in our products like PERFORMANCE OIL, PERFORMANCE CAPSULES, ENDURE CAPSULES, ENDURE OIL, STRAIGHT UP OIL, STRAIGHT UP CAPSULES, EXTRA CAPSULES, EXTRA OIL, POWER BUILD, GOOD PERIOD and many more products where we do purely rely on Ayurvedic herbs to medicate which have no side effects as well.
For hundreds of years, people have used Shatavari as herbal medicine. While consuming the herb in small amounts appears to be safe, taking it during pregnancy or in higher doses may cause side effects. Before taking the supplement, it is critical to consult with a doctor about the risks and benefits.
So get consulted first with your family doctor or you can even contact our Health Expert or connect us at +919867667699
1 comment