AADAR Blog
ONAM: AN INSIGHTS CELEBRATIONS IN KERALA
by Harsh Shah on Sep 08, 2022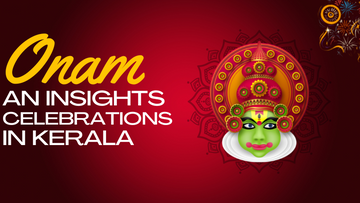 Festivals define a society's cultural aspects, and India as a larger community is a festival we celebrate every day. When it comes to festivals and celebrations, each region of India has its own set of advantages, particularly when it comes to the regional characteristics of the festival in question. Agriculture is so deeply embedded in our system that a rainstorm is as significant a cause for celebration as the birth of a child.
Harvest season is celebrated in various parts of the country, and at this time of year, we sail along the coast to arrive in Kerala, where Onam, the state's annual harvest festival, is celebrated in full swing, encompassing unique and interesting rituals - all symbolizing fertility and prosperity.
Onam is the most popular festival in Kerala. It can be traced to the primitive harvest festival and also to the myth regarding King Mahabali - The Benevolent Adura ruler who brought peace and prosperity to his country.  
THE LEGEND OF MAHABALI
According to Hindu mythology, the Brahmin sage Prahlada had a grandson named Mahabali who defeated the Gods and took control of the three worlds (Devas). In Vaishnavism, the Devas approached Lord Vishnu for assistance in their battle against Mahabali, but Vishnu declined because Mahabali was a good ruler and his devotee. After his victory over the Gods, Mahabali had to perform a Yajna and grant any request. Lord Vishnu used this opportunity to put Mahabali's devotion to the test, appearing in the form of a dwarf boy named Vamana.
The king offered the boy everything he had, but Vamana refused, saying that one should not seek more than one's needs, and all he needed was three paces. Despite being surprised by the boy's wish, Mahabali agreed to grant it. Vamana grew and covered the land and water with one foot and the sky with the other; now Mahabali offered himself to place his third foot. Vamana trampled Mahabali down to Pathala (hell), but was moved by his devotion and granted him a boon to return to his land every year. Onam is celebrated with a return to Mahabali.
Kerala is truly enchanting at this time of year, providing a spectacular glimpse of the cultural glory that it so richly deserves. Onam is a sight to behold, whether it is Kalivallangal, the local boat race that strums in perfect unison with the men who row the boat, making the backwaters come alive, or the graceful Thirvathira dance gracefully performed by women in Kasavu sarees and jasmine flowers adorning their hair.
Ayurveda may be 5,000 years old, but its popularity continues to grow daily. Kerala is well-known for having some of the world's best Ayurvedic treatments. People from all walks of life travel to Kerala to experience the most holistic approach to health and wellness, as well as to naturally address any issue. It is only possible through the power of Ayurveda, and the Onam season is no exception. With the right balance, Ayurveda awakens all the senses, and to welcome the festive season through this experience, we've got Gita Ramesh, Managing Director of Kairali Ayurvedic Group, to shed light on its principles.
It all starts with the banana leaf, which is high in antioxidants and allows food served on it to absorb polyphenols, which aid in the ingestion of germ-free food. The science behind the balance that only an Onam Sadhya — the Onam lunch served on a banana leaf — can achieve is not visible to the naked eye. A Sadhya for Onam represents the beginning of a new harvest from nature's abundant treasures. Sadhya preparations begin months in advance, with the first seeds sown with the goal of harvesting in the Malayalam month of Chingam (roughly between August and September). The Sadhya has traditionally appeared to be a gluten-free, almost vegan meal.
Another golden season has arrived with a thousand flower fields of memories. AADAR wishes you and your family Happy Onam. May your all wish comes true. Stay safe and healthy because AADAR has always backed their valuable readers. Now is the time to take necessary action and build your overall health. Wondering where to go to prevent such a problem?  You can consult your family doctor first, or you can contact our Health Expert or connect us at +9189867667699 to obtain the most accurate diagnosis.