AADAR Blog
PREMATURE EJACULATION CURABLE NATURALLY WITH AYURVEDA?
by Harsh Shah on Dec 29, 2022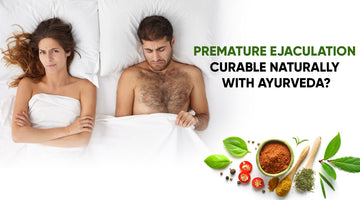 What Is The Most Effective Ayurvedic Treatment For Premature Ejaculation?
Premature Ejaculation is an entirely normal condition in which uncontrolled ejaculation or early ejaculation means ejaculation occurs before or shortly after penetration. Because ejaculation occurs without a person's wishes, it can leave you disappointed and your partner dissatisfied. Premature ejaculation occurs when ejaculation occurs before the partners have completed satisfactory sexual activity. Suffering men experience orgasms within a few minutes of intimation and then find it difficult to ejaculate. Men are more prone to the condition. One male out of three is affected by the problem. This means that roughly 40% of males are affected by the problem. This causes men to be frustrated and irritated. However, Ayurvedic medicines can help with this issue. Ayurveda has a few medicines that are effective for early discharge.
The Most Important Reasons For PE
Doctors believe that the problem of premature ejaculation in men has increased in recent years, possibly due to increased workload, stress, lifestyle, smoking, or a variety of other factors. Previously, it was thought that premature ejaculation was caused by psychological issues, but doctors later discovered that this problem is caused by a chemical imbalance in the brain centers that control this specific function of the body. Premature ejaculation, according to Sexologist doctors, may also cause psychological issues such as performance anxiety.
The Most Important Reasons For PE
Because some men believe they are not good in bed, they lose control of their ejaculation. Although there are many other reasons for premature ejaculation, such as feelings of rejection by the partner, expectations of failure, previous bad or negative sexual experiences, religious beliefs, or problems in the relationship. Some men develop premature ejaculation because they are unable to maintain or obtain an erection that allows them to have sex with their partners.
Because of these factors, the muscles and nerves of the penis weaken. As a result, it is difficult to hold the sperm and the quality of seminal fluid produced suffers. This causes premature ejaculation. A diabetic patient may experience premature ejaculation as well. As a result, Ayurveda has another pre-ejaculation medicine.
Safed Musli
Safed Musli has a potent aphrodisiac and adaptogenic natural substance that increases the body's ability to resist the damaging effects of stress and promote or restore normal physiological functioning properties.
Ashwagandha 
Ashwagandha is an ayurvedic herb that can help with various health issues. Ashwagandha reduces anxiety and stress, fights depression, increases male fertility and testosterone, and improves brain function.
Increase your

testosterone

and other sex hormones.

Reduces stress and its associated health issues

Provide relief from arthritis symptoms such as joint swelling and pain.

Antioxidant-rich,

it helps to delay the appearance of aging signs such as dark spots, wrinkles, fine lines, and blemishes.
Gokhru 
Gokhru or Gokshura (Tribulus Terrestris) is a popular Ayurvedic herb for its immune-boosting, aphrodisiac, and rejuvenating properties.
Improves athletic performance by increasing energy levels.

It aids in the treatment of erectile dysfunction by strengthening the penile tissue and improving penile erection.

As a powerful aphrodisiac, it may increase male sexual desire.

Helpful in the treatment of prostate gland disorders.
4) Shatavari, also known as Shatavari, Shatavar, or Asparagus Racemosus, is thought to promote fertility and have a variety of health benefits, especially for the female reproductive system.
Boost your immune system.

Assist in the treatment of depression

Maintain blood sugar levels

It possesses anti-inflammatory properties.
In The End
Premature ejaculation is a sexual complication. If not treated promptly, it can lead to serious sexual issues in the future. To get quick results, try the above-mentioned premature ejaculation treatments. You can get back to your old sex life with your partner by getting the right treatment at the right time.
AADAR
has been religiously working towards many sexual issues like
Premature Ejaculation
, and many related diseases.
AADAR's Endure
is one of the most astounding products that consists of natural and magical Ayurvedic ingredients like
Ashwagandha
,
Safed Musli
,
Golkhru
,
Shilajit
, and many other powerful herbs that cure premature ejaculation from roots giving positive results.
We have Health Experts with whom you can easily connect and discuss your sexual concerns. To obtain the most accurate diagnosis, you can consult your family doctor first, or you can contact our
Health Expert
or connect with us at 
+919867667699