AADAR Blog
Targeting Obesity in an Ayurvedic Way
by Brand Store on Jul 25, 2022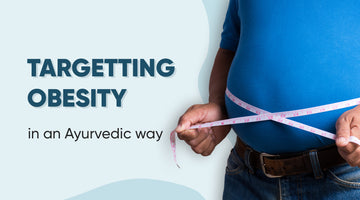 Obesity is not only about putting extra fats and increasing weight but has a lot more adverse effects on health than we think like diabetes,heart issue ,blood pressure and many more.
Due to the current lifestyle Obesity is on the rise in India, with 1 out of every 4 people being overweight. Obesity among Indians increased in 2019-21 compared to 2015-16, as per the latest National Family Health Survey (NFHS-5) data. One billion people globally are estimated to be living with obesity by 2030.
Obesity occurs when a person's body mass index (BMI) is 25 or greater. Few of the factors that can cause Obesity are diet, lack of exercise, environmental factors, age, lifestyle, genetics, and many more.
Few things to intake and avoid which will help you stay healthy:
Intake:-
Low-fat and low-calorie food items.
More proteins.
Steamed/ boiled and baked vegetables.
Frequent small meals to avoid food cravings.
Healthy foods like  oatmeal, walnuts, salads, bitter gourd, drumstick, barley, wheat, Moong dal, honey, amla, pomegranate, etc
Include cabbage in daily meals. It will stop the conversion of sugars to fat.
Warm water for drinking.
Include lemon in diet and drinks.
One interesting fact: According to Ayurveda, Ghee helps in weight loss and reduces cholesterol, and rich source of Omega-3
Avoid:-
High carbohydrate vegetables like - potato, rice, etc.
Sugar, fried and oily foods, excess salt.
Still difficult to manage Obesity with the current lifestyle and Junk food and time crunch best way to combat obesity and related health issues is through Ayurveda.
Ayurveda has lots to offer that can help naturally improve health. The power of Ayurveda and its amazing treatment are been now searched to a great extent since people are now re-establishing trust in Ayurveda through various awareness tools and also brands like AADAR.. The magical effects of many natural ingredients like Garcinia, Methi, and Triphala of Ayurveda help reduce weight and keep you away from Obesity. From ancient times people are taking them to stay fit. Taken in right does and at the right time will surely provide the best results. All your answer and solution is there with many Ayurveda brands one of which is AADAR, 1st digital ayurvedic brand well appreciated by Forbes and thousands of happy customers. Weight NO More" of AADAR is very well loved by customers.