AADAR Blog
The Art Of Achieving What You WISH
by Harsh Shah on Jun 16, 2022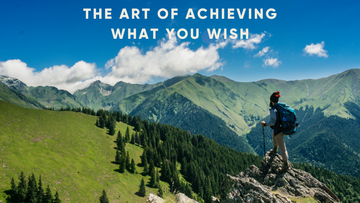 When someone asks what do you want in life ???
Answers are varied some have luxurious goals like a big house, cars, gadgets, etc. It's on person to person what they desire to achieve but the only fact that is they give them pleasure & happens. Maybe you don't know the exact answer, but what if you're then asked, "How do you get what you want?" That's where the majority of us get stuck. This question is pressuring because it encompasses never-ending desires or wishes in different aspects of our lives, such as our schedules, habits, routines, and so on.
While many will ask to see some YouTube motivational videos, others will recommend good books, others will provide inspiring examples from their own lives. But the truth is that if you are not self-motivated, nothing can help you. If you don't have that hunger to achieve anything then there is nothing that can set you upright
BELIEVE IN YOURSELF
Believe in yourself no matter what!! It feels good if someone else believes in us but we really can not control that. What we really can do is just focus on what we have aimed for. At any point in life if you feel low then just remember that it's your self-belief that will keep you going. 
PLAN YOUR GOALS
Create your action plans with a proper breakdown of your main goals. Working to achieve the main goal, may find it difficult or confusing but with a proper break down you will get clear ideas of how you have to work daily on it. The measure of how much time or money you are investing and its output should be worth it. Be realistic with numbers rather than set high goals and fail on them miserably.
DEDICATION
Dedicating yourself to the focus that you have planned to achieve. It is the effort required to do something and keep doing it until the end, even if it is difficult. Keep learning new things related to your goal and apply it practically to see where and how it works. To achieve your goal, you must preserve your motivation. Consider scheduling a weekly evaluation that includes measuring your progress and reviewing your schedule.
IN THE END
It's you who must have self-belief and a clear image of what you are today and how you want to see yourself after a particular interval. 
When you see how smartly you are achieving your final sprint, then the game is yours & you'll be more motivated to stay strong. If you are not meeting goals in your targetted time, just be a little disciplined by aligning your ask as per the priorities and see how it will keep you going.
You are the only HERO in your life's journey. So work smart and be the inspiration in other's life.