AADAR Blog
WHAT DOES IT TAKE TO BECOME AN INDIAN DAD?
by Harsh Shah on Jun 19, 2022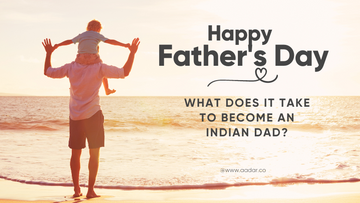 Even if a person is thinking of becoming a father for the first time, he will experience a variety of emotions, from excitement to anxiety. To become a father in a real sense takes more than just becoming a father biologically. It's a roller coaster ride !!
Today, as we celebrate Father's Day, it's a good time to talk about the challenges that new fathers confront especially if it's about Indian Dads. Anyone can become a father but to be an actual father is what takes a lifetime. It is truly said that no one can take a father's place in a child's life. This responsibility has a significant impact on a baby's upbringing and can help mold him or her into the person they become.
There are many challenges any father faces, especially for any Indian Father:
BRIDGING DOWN THE GENERATION GAP:
As kids keep growing they start developing their own world with their own tastes in foods, movies, music, friends, and even careers. It is difficult for most Indian fathers to understand their kid's mindset due to the world evolving way faster than they could understand. So it starts creating the so-called generation gap between father and their kids. So it is one of the biggest challenges they face due to the growing generation gap.
NIGHTMARES OF THEIR KIDS INVOLVED IN SEX:
Indian parents especially fathers are the most concerned about their kids with any sex-related incidents. They have nightmares of their children having premarital sex, having sex outside of marriage, and discovering condoms in their children's wallets or bags. Also, one of their worst fears of their children being pregnant unintentionally before marriage.
HESITATION TO EDUCATE THEIR KIDS ABOUT SEX:
From talking about masturbation to reproduction to menstruation & contraceptives, they still hesitate to talk on such topics. Regrettably, it is not seen as a typical topic of discussion. In most Indian houses, it's still a taboo subject, and there's a sense of unease about it.
A KID'S CAREER IS A FAMILY CAREER NOT A PERSONAL ONE:
As per the survey, 82% of Indian parents still decide on their kid's careers without concerning their kid's interests. If you come from a normal Indian middle-class family, you have limited career options like engineering, medical or government jobs. You would be considered an alien or not-so-worthy kid in the family if you show interest in art like acting, singing, or sports.
EDUCATING THEIR KIDS ABOUT FINANCE:
Most Indian dads think their kids are still not ready to handle or they will make so much wealth that their kids do not need to worry about it. They need to educate them about finance and investments from the time they hit their teen ages to make them more mature about handling finances which most of them fail to do so. This affects their overall future financially where they have to learn either by themselves or live on paychecks to paychecks.
IN THE END
Although many times we find it insensible or argumentative about our father's concerns, it's their concerns and protecting shield which has protected us from this cruel world. It takes a lot to become an actual FATHER. We have such heroes at our home who have given their blood and sweat for making our future better and secure. A great nurturing bond between father-kids is really important for any kid's growth in every term which also affects their relationship with their kids in the future as well. 
So today, don't forget to tell your dad you love him & thank him for being there!