AADAR Blog
Adapting Ayurveda To Urban Lifestyle
by Harsh Shah on Jun 21, 2022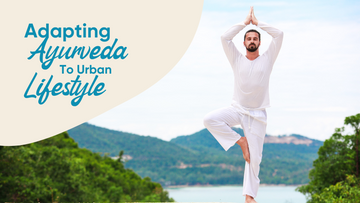 They say big cities never sleep because it's always full of young and restless energies, who are dynamic and ambitious chasing their dreams. But with these big dreams, they have their soul and body that they need to understand too. Till the time they understand it's too late for them to do so. 
Today's youth have great creative minds with a hardworking intention to chase anything they dream. But they need to understand that this could be attained in a much more tranquil way with a well-balanced life. This urban city may have big money, fame, and success but it is also overwhelming sometimes which is quite inadmissible. 
Along with a quick money-fame mindset, most of the urban society wants quick treatment so their pace for chasing success does not come to halt. Although they have a firm belief in Ayurveda but don't have the patience for its exceptional results. Youth need to understand that Ayurveda is not a treatment but a complete lifestyle that needs to be adopted for one's wellness. 
Today we have medicines for almost every problem but it's just treated for temporary relief, not for permanent wellbeing. Adopting Ayurveda in your daily lifestyle will definitely cure most of your problems naturally. People in ancient times had firm principles of living rooted in Ayurveda. Be it diabetes, lung problems, or sexual problems Ayurveda was rooted in their daily habits which helped them with their overall well-being. 
Ayurveda has self-care practices for mind, body, and spirit that nurture, nourish, and rejuvenate them. From your waking time to time you again hug your pillow at night, if you just adapt basic Ayurvedic rituals then nothing can stop you from befriending your good health. It's all about a balanced diet, sleep, and basic yoga exercises to attain this phase. Diet, exercise, and sleep all have deep connections to understand and have numerous effects on your body. If one understands how these work and gets into it then with these lifestyle behaviors your journey to a good healthy life is easy. 
Better The Dinacharya, Better You
The "Ayurvedic Dinacharya" what we call a daily routine in modern times, plays a very crucial role in building good health. Keeping the alignment of it with natural rhythm and keeping track of it is what we need to do. Incorporating it with our busy lifestyle with proper discipline in urban places will help us to grow not just financially but soulfully as well. 
AADAR wants urban societies to have newfound energy and helps nourish its amazing spirit by calming your senses and prioritizing your own self-care along with money-fame success. What's your take on Ayurveda and its exceptional results let us know.