AADAR Blog
CALIGULA: THE OVER-SEXED EMPEROR
by Harsh Shah on Jun 25, 2022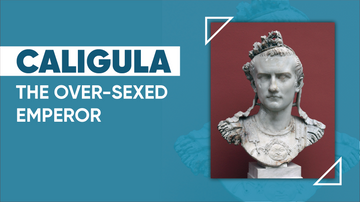 Caligula remembered as one of history's most cruel and erratic rulers was the third emperor of the Roman Empire. He was famous for his brutal and psychopathic actions his name was enough to send chills down people's spines. Born in August AD 12 he was famous for his insane stories including having sex with his sisters, his problem with impotency,  his weird sexual desires, and many more.
Succeeding the Tiberius's regime, Caligula ruled for a span of four years. But in this shorter span, he became famous for all the cruelness due to his weird erotic desires if sexual tales are to be believed. Caligula's ruled from March AD 37 until his death in January AD 41 where he did all the strange or unusual things. 
MARRIED TO 4 WOMEN INCLUDING HIS OWN SISTER. 
Caligula was married to four women,  Milonia Caesonia (m. 39 AD–41 AD), Lollia Paulina (m. 38 AD–38 AD), Livia Orestilla (m. 37 AD–37 AD), Junia Claudilla (m. 33 AD–34 AD) crossed all the limits of his hunger for sex or weird erotic desires. Caligus was incestuous with his sisters, especially having a good physical bond with one of her sisters Julia Drusilla. 
SLEPT WITH ANYONE & EVERYONE
Caligula seemed to become more anxious to sleep around as his power grew. According to sources from history, Caligula had no regard for sexual purity, either his own or others, and was accused of having homosexual relations, both active and passive, with Marcus Lepidus, and various hostages; furthermore, a young man of a consular family too. 
THROWING ADULT PARTIES
Caligula would transform one of his marble-floored villas into his Roman Sexual Party Palace when he wanted to throw a party. He'd gather literally hundreds of strangers from all walks of life and lavish them with food and wine. Professional musicians would play music in the background to get everyone in the mood, while male and female sex workers mingled among the guests.
UNDRESSING & MOLEST HIS PARTNERS
Caligula would approach a young Roman couple whom he had invited to the party in public. He'd pick the most appealing member of the couple, either male or female, and scrutinize them as if they were a piece of the herd up for auction. He'd take their clothes off in front of the crowd and make remarks about their appearance. Caligula would then take the young noble into his private quarters, use them, and return to the party to give his guests an informed rundown of his partner's performance.
PARADING HIS WIFE NAKED
Caligula kidnapped his second wife from her wedding to another man after his first wife died. His third wife was a married woman whose husband was forced to divorce her and give her to the emperor. Milonia Caesonia, his fourth wife, maintained his interest. He paraded her naked in front of his friends because she was flirtatious and vibrant. She gave birth to his only child, Drusilla, who was named after his sister.
While it is said some stories are made up in a overexaggerated manner, to be on point it is what history defines. Impotency and weird sexual desires have been for ages which have mostly spoiled or molested victim's lives. It's just that sexual desires in a good or in a weird way have always been observed for centuries. On the plus side, we are in the midst of a massive social transformation that is providing us with greater sexual freedom than we have ever had before. We should be willing to listen if an evolutionary theory can help us navigate this perplexing new world. After all, we need all the assistance we can get.