AADAR Blog
KHAJURAHO: TEMPLES & STORIES MORE THAN JUST EROTIC
by Harsh Shah on Jun 28, 2022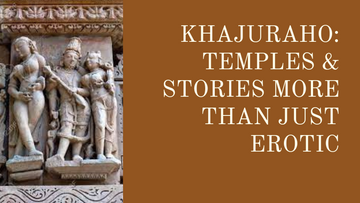 We are from the land of Kamasutra, today so-called modern India but we still find topics like "SEX" taboo? Even though it is a natural process, people hesitate to discuss it as if it were a serious infection. Most ancient Indian monuments have surprising stories to be heard. But the sculptures of human figures at Khajuraho take visitors by surprise. Perhaps no other destination invokes as many different reactions as Khajuraho.
STORY BEHIND ITS NAME
According to legend, the temples had two golden date-palm trees as their gates. This is how Khajuraho got its name from the word khajur, which means date palm.
CONSTRUCTION OF KHAJURAHO
The majority of the Khajuraho temples were constructed between 885 and 1050 AD by the Chandela dynasty's kings and are estimated to have taken 300 to 400 years to complete. According to historical records, the Khajuraho temple site had 85 temples by the 12th century, spread across 20 square kilometers. Only about 25 of these temples have survived, spread across six square kilometers. The Kandariya Mahadeva Temple is one of the few surviving temples and is decorated with a vast number of sculptures with fine details, symbolism, and emotion of ancient Indian art.
The sculptures on the walls depict men and women with beautiful features and curvy bodies engaged in seduction and pleasure. Polyandry, polygamy, bisexuality, and homosexuality are also depicted in the sculptures. This temple has even been declared a Unesco World Heritage Site (https://whc.unesco.org/en/list/240). While some researchers believe these idols are from scenes in the Kama Sutra, the world's original sex guide, others believe Fthey are tantric sex idols.
STORIES BEHIND KHAJURAHO TEMPLES
According to mythology tales, a beautiful woman named Hemavathy was bathing in the moonlight when she was seduced by the moon himself. She took shelter in the forests and raised her son, Chandravarman, on her own. The moon, on the other hand, promised her that their son would one day rule a kingdom. Chandravarman grew up to establish the Chandela dynasty, as he promised. It is believed that he was influenced by his mother's story and thus built temples with sculptures depicting human passions and, most likely, the futility of the same.
Another myth holds that Mithuna carvings, along with several sculptures depicting mythical creatures, are symbols of "Good Luck" and they served as a form of sex. Another story says holds that they served as a form of sex education, rekindling passions in ascetic minds likely influenced by Buddhism.
Listening to all these erotic tales while having a look through them, visitors here have mixed reactions. Some say it is cynical while others say it cringes. Some are embarrassed, while others are unhappy with it. Most tourists giggle or look away as the guides point to the intimating sculptures. So why is it we civilized people have the narrow mindset and so-called old people our ancestors were open to talking about sex & intimacy? Do let us know.