AADAR Blog
Triphala Benefits For Hair
by Dr. Diksha Tiwari on Apr 04, 2022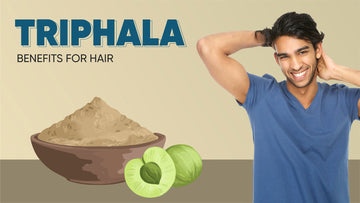 Triphala is a magical combination of three herbs. Ayurveda relies on triphala to deal with any kind of hair-related problem. In this blog, we are going to tell you the advantages that Triphala provides for hair. We will also tell you
But before starting with anything else, we would like to tell you what Triphala actually is.
What is Triphala?
Triphala literally means "three fruits" in Sanskrit. It is a powerful polyherbal combination of three dried fruits of Amla, Bibhitaki, and Haritaki plants. When these three are mixed together, you get the herbal remedy of Triphala, which works wonders for your hair.
Properties of the ingredients in Triphala
As mentioned earlier, Triphala is made when the fruits of Amla, Bibhitaki, and Haritaki are dried and mixed together.
All these three ingredients are, by themselves, also highly beneficial. Let us tell you the individual properties of the three constituting ingredients of Triphala.
Amla-
Amla has high Vitamin C content. It has a lot of fatty acids that make the hair soft, shiny, and voluminous by penetrating into the follicles. Amla is the best ingredient if you want to grow your hair faster.
Bibhitaki-
Bibhitaki has antibacterial and antifungal properties. It helps the scalp be free from excess oil, which eventually reduces dandruff. It also strengthens the hair roots and makes your hair strong.
Haritaki-
Say bye to dandruff, itching, and hair fall if you have this ingredient in your hair care routine products. It is filled with antioxidants that help the hair grow and stay healthy. It is proven that this ingredient cleanses the hair follicles and removes all the dirt clogged in them, so that your hair grows well.
When the beneficial properties of these three ingredients are mixed together, Triphala comes out as the best ingredient for hair and its related issues.
Now you know what Triphala is made of and the benefits that its constituent ingredients provide for hair. Let us now tell you the benefits of Triphala.
Triphala Benefits for Hair
In ayurveda, tripahal has been regarded as a "tonic for hair". Its benefits are:
It strengthens the follicles and roots.
It encourages hair growth.
It restores the normal pH balance of the scalp.
It makes the hair thick and strong.
It brings shine to the hair.
It removes dandruff and other scalp issues.
It controls hair loss.
It manages split ends.
It reduces frizz and makes the hair feel soft.
It moisturises the hair so that it looks healthy.
You could also have all of these benefits for your hair if you use triphala.
Using pure and authentic triphala products would give all of these benefits. But how to find the right products? AADAR would help you.
AADAR is a science-backed ayurvedic brand that has been serving ayurvedic medicines for all lifestyle disorders.
We have a wide range of products that would help you deal with your problems by providing solutions derived from the healing touch of nature and natural ingredients.
Check out our website, www.aadar.co, to learn more about us. Heal with the help of nature. Choose Ayurveda. Choose AADAR.