AADAR Blog
VIAGRA: THE LITTLE BLUE PILL! IS IT SAFE TO GO WITH?
by Harsh Shah on Jul 15, 2022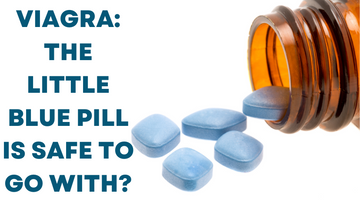 1 out of every 10 men is estimated to have erectile dysfunction at some point in his life. By 2025, the prevalence rate of erectile dysfunction is expected to rise to 322 million men worldwide. Post the age of 40, male erectile dysfunction is common and frustrating. Erectile dysfunction causes a lack of self-confidence and problems in relationships. 
Here comes Viagra, as a savior of many men's performances. In recent years with successful clinical trials, Viagra showed promising results. It has shown effective results in treating erectile dysfunction of various causes. Viagra famously known for its use has quite a surprising story of its existence. Viagra hadn't today be in use for what it is used for if its patients had not got these interesting side effects. 
HOW VIAGRA CAME INTO THE EXISTENCE:
Pfizer's Kent laboratories accidentally turned a failed heart-treating pill into a billion-dollar erectile dysfunction treating pill. During early clinical trials of sildenafil, now better known by the brand name Viagra, male volunteers taking the pills consistently reported unprompted, long-lasting erections. Following further investigation, it was discovered that Viagra, which is designed to relax blood vessels around the heart to improve blood flow, had the same effect on arteries within the penis. This is how this erection tablet came as a savior for men.
VIAGRA'S BUSINESS POTENCY: 
According to one of the acclaimed global news organizations Th Guardian has claimed this erection tablet has consistently generated annual sales of $1.8 billion over the last two decades. So you can imagine how huge is ED market globally and how millions of men are facing this problem of Erectile Dysfunction.
Pfizer, an American multinational pharmaceutical and biotechnology corporation claims that after its launch in 1998 in 20 years, 62 million men worldwide have bought the "The Little Blue Pill". Many manufacturers around the world now sell Viagra, the brand name for the drug sildenafil, as a generic drug. Sildenafil is essentially the same medication as male Viagra, Pfizer's first significant erectile dysfunction (ED) medication on the market.
The major players in the market are:
- Viagra (Sildenafil Citrate)
- Levitra/Staxyn (Vardenafil)
- Cialis (Tadalafil)
- Zydena (Udenafil)
- Helleva (Lodenafil Carbonate)
- Avanafil (Stendra/ Spedra)
- Mvix (Mirodenafil)
In India, it is likely to prescribe by a general practitioner without a thorough assessment of the patient's complaint of impotence. As a result, the medical community should address the ethical question of who should prescribe this drug, and proper guidelines should be developed to avoid sildenafil misuse. Men are using Sex Tonic which is not so to be used. 
SIDE EFFECTS OF VIAGRA:
Although Viagra is used as an aid to erectile dysfunction it has its limit in its dosage which should be taken care of. There have been seen several side effects exceeding its dosage. Headache, flushing, dyspepsia, diarrhea, nasal congestion, indigestion, visual disturbances, dizziness, and rash are the most common side effects.
Although male Viagra was the first approved for the treatment of erectile dysfunction (ED), ED is a common sexual problem among men, and its prevalence rises with age. Male Viagra is not a lifetime solution for which men should be looking to replace or discard it naturally. AADAR has always medicated folks naturally with powerful ingredients and herbs which have no side effects and treat your problem from the roots itself, AADAR's Straight Up which is like natural Viagra has been clinically proven to treat over 40,000 men having ED most naturally.