AADAR Blog
5 Herbs In Your Kitchen Garden That Can Help With Your Immunity
by Dr. Diksha Tiwari on Jul 01, 2020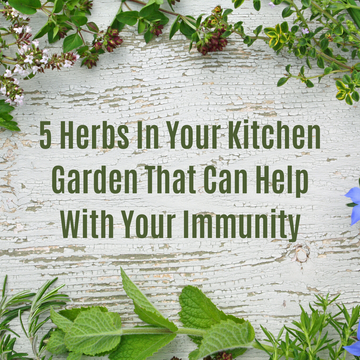 With seasons changing every now and then, it is easy to fall prey to viral infections and influenza if our immunity is not on point. And a day wasted on such tiny-weeny infections is a day that could have been utilised for living your life to the fullest. Of course, that'd require more of your attention towards building up your immunity to help yourself adapt to all weather conditions and be cosmopolitan. So without further delay, let's get started on how to build your immunity with easy to find herbs around your vicinity.
Tulsi
Often found as one key plant available in almost every Indian home is Tulsi. It not only refreshes the vicinity where it's planted but helps to boost your immunity with its antibacterial properties. Concoctions made up of tulsi leaves also help you to treat viral influenza and cough.
Neem
A natural germicidal plant, neem leaves are used to disinfect the wounds and cleanse your body from within. Paste made up of neem leaves also help in healing wounds, fight acne or you can also include it in your diet to boost your immunity against certain infections.
Mint
While mint leaves soothe your stomach from within, you'll be surprised to find out that mint leaves also increase your immunity against digestive disorders. Regular intake of mint leaves in your diet can keep you away from acidity and gastric imbalance.
LemonGrass
Often used as a replacement for the lemon flavour when needed to avoid the acidity, lemongrass is a very useful herb for human health. You can always boil a handful of lemongrass streaks and drink it to soothe your throat and gastric organs.
Basil
Basil leaves are well known for its weight loss properties and helps boost your metabolism. A cup of basil tea in an early morning can help you get rid of toxins while giving you a refreshed morning with a boost in your immunity. Including the above stated herbs in your regular diet can save you thousands on unwanted medicines while giving you a refreshing vibe all throughout your day.