AADAR Blog
Ayurvedic Approach to Losing Weight
by Dr. Diksha Tiwari on Mar 14, 2022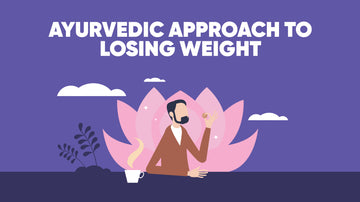 The pandemic and the endless lockdowns made us all indulge in delicious homemade food, and let's be honest, they were majorly unhealthy. Besides eating unhealthy food, we also ended up having a lot of leisure time which was mostly lazy time. This made us gain a lot of unwanted weight. But don't worry you can easily shed all those extra inches off your waist. You can do this with the help of Ayurveda by following some simple steps.

Keep reading to know the juicy secrets of losing weight with the help of Ayurveda.


1 Eat three holistic meals-
Eating the right meal that contains all the nutrition is very important. It is not about sacrificing taste to stay healthy, it is about eating a variety of food with a variety of nutrients.


2 Establish a routine -
The first point is only going to work when you follow a routine. Eating the meals at exactly the same time day after day is going to set your body clock accordingly.


3 Dinner before 7 -
Eating 3 meals at the right time also involves a little catch, and that is - eat your dinner before 7 pm. This is because according to Ayurveda, eating your last meal as close to sunset as possible is beneficial for a healthy body, mind and soul. Also, there should always be a little time gap in between you having your meal and going to sleep.


4 Dosha appropriate diet-
It is always recommended that you eat the food keeping in mind your dosha. Dosha appropriate diet is recommended only to set your health right.


5 Sleep well -
Believe it or not, but sleep is more important than anything else when you are aiming to lose weight. Take at least 7-8 hours of sleep every night.


6 Water is the elixir of life -
Your mother might be tired of saying this so we are here reminding you too, DRINK ENOUGH WATER!


7 Don't stress -
It is not possible to live a completely stress free life in today's world, but you can definitely reduce your stress levels. This would help you a lot in maintaining your overall health.


8 Make time for meditation -
Any form of meditation is extremely important to calm your nerves, clear your mind, build focus, and just feel your breath and be present in the moment.

These were some of the tips that would help you lose weight. Try out and let us know when you see a difference in yourself.

Other than these lifestyle changes, you could also go for Ayurvedic medication to see results faster.
Weight No More Capsule by AADAR has been proven effective in losing weight faster. It contains herbs such as - Garcinia, Triphala, and Methi which are considered the best in Ayurveda for any weight-related issues.

Do check out this product, and visit our website to know more. AADAR is an ayurvedic brand that is backed by science. We provide ayurvedic medicines for all of your lifestyle problems. Do check out our website to know more about us and our products.

Also, keep checking out the Blog section on our website, www.aadar.co to read articles related to losing weight. We are going to be releasing another information blog soon on the same issue.