AADAR Blog
Immunize The Pleasure of Love Making
by Dr. Diksha Tiwari on Mar 16, 2022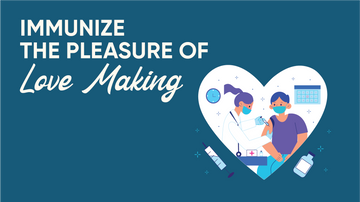 Here Is All You Need To Know About Vaccination for STD's
Word VACCINATION is making quite a headline for the last couple of years after the new corona has taken place globally. It's quite surprising how we have become used to this word and vaccination itself to guard ourselves against this ruinous disease. We are quite familiar with vaccinations like RotaVirus Vaccine, IPV, and Measles since our childhood.
But what is less common is that we are unaware of vaccinations that are just as crucial, it's vaccinations for sexual diseases. We are either unaware of it or unwilling to discuss it due to awkwardness. However, as we move forward, you will learn about the really serious problems that we can avoid or cure if we are aware of them.
Each year, an estimated 6% of the adult population in India is diagnosed with various sexual problems like Sexually Transmitted Diseases (STDs) & Reproductive Tract Infections (RTIs). If we see the stats of 6% is quite a big number as we are quite huge in population and it's quite a serious situation we need to work on.
To begin with the primary approach here, we can work with a decisive approach
- There is a need for the counseling team that works with multidisciplinary addresses.
- Almost a 1/3 of those diagnosed with a sexual disease like HIV & STD were are unaware should be acknowledged about it.
- Make counseling available in a much easy approach with broader mindset terms
- Counseling will have a positive impact because professionals will aid victims with a better approach.
PERCENTAGE OF MEN & WOMEN WHO HAVE COMPREHENSIVE KNOWLEDGE ABOUT SEXUAL DISEASESGENDER URBAN RURAL TOTALMEN 37.8% 29.2% 32.5%WOMEN 28.1% 16.9% 20.9%PREVALENCE OF STD's AMONG MEN IN INDIASYPHILIS 12.6-57%CHLAMYDIA 20-30%CHANCROID 9.9-34.7%GONORRHEA 8.5-25.9%HERPES SIMPLEX VIRUS (HSV) 3.0-14.9%HUMAN PAPILLOMA VIRUS (HPV) 4.9-14.30%
Overall, while India still has a large number of citizens living with such problems, the government is launching measures to address them. As the government expands counseling and other such programs, more people will become aware of their situation, and the rate of transmission will hopefully continue to drop.
It's a serious problem we should start addressing as earliest as possible, we
@https://aadar.co/
encourage MEN to show your masculinity by talking on such topics rather than hiding it and making it worse. Our health experts are here to motivate you and solve your sexual and related problems and make the world a better living place.