AADAR Blog
This Holi, Make Your Love Life More Colourful
by Dr. Diksha Tiwari on Mar 17, 2022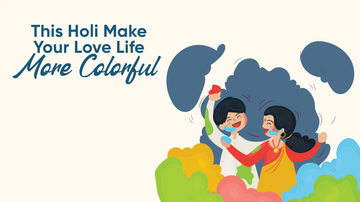 How do you define the term Love Life & Healthy Relationship? It's a very important element in any individual life who is in a relationship. In any scenario, especially for any man, it has been observed that poor chemistry with his partner will affect every term, peculiarly in sex life.

In many cases, guys feel that they are not happy after marriage either with their unbalanced lifestyle or not getting what they want in their intimate love life. There could be many personal and professional reasons why couples are on the same track of life with their partner and affecting healthy relationships for the worse.

Today's fast-paced lifestyle necessitates more of everything be it big money, bigger career, big house and don't know what. With an effort to keep all these dreams alive we keep our love life fading with every other thing coming as a secondary desire. So it's better to take effort and make everything balanced before it gets worse.


BE A MAN WITH CLEAR WITH LIFE GOALS & DREAMS
- It's always good to be very clear about the Life Goals with your partner should being receptive about it & vice-versa.
- Make a clear sense of living life in a balanced way with clarity and happiness that you need in your intimate vibes.
- It's also important to keep your masculine ego aside and understand your partner's dreams and desires.


BALANCE YOUR LIFESTYLE - sugar salt, exercise, stress, work
- They say never take your work stress home. Make clear priorities for work life and personal life.
- Take time frequently to spend time with your partner, make her feel that she is important over everything.
- Make your lifestyle habits healthy with healthy food and scheduled sleep as well.
- The more healthy the couples are healthier is their love life.


MAKE YOUR BEDROOM GAME INTERESTING
- Keep taking your bedroom game to the next level every time.
- Always make your intimacy fun and more engaging rather than to make love just like other regular stuff.
- Romance & Cuddle making every moment jazzy

We all have 24 hrs a day which is the same for everyone on this planet. It's how we take everything in our priorities and make life more desirable and worth living. So, if you feel your love life is turning into a mundane and can't remember when the two of you last had passionate intimacy, all you need to do is make your love life much more colorful.