AADAR Blog
AYURVEDIC HERBS THAT STIMULATE YOUR LIBIDO
by Harsh Shah on Dec 16, 2022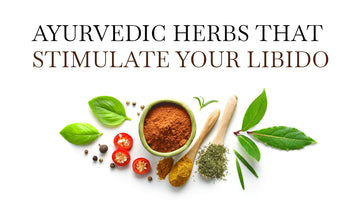 Is this your go-to response when your partner tries to spice things up? Have you been feeling like you have lost those urges? If this is the case, you should be concerned because losing your libido may impact your relationship and your sex life. Furthermore, it will stress you mentally and emotionally.
Don't freak out just yet! Today's stress levels and way of life make it a fairly common problem. According to a study published in The Journal of Sexual Medicine, chronic stress is related to lower levels of genital sexual arousal. Lower levels of sexual arousal in women experiencing high chronic stress were linked to both psychological and hormonal factors.
Mother nature appears to have predicted that stress would dominate our lives, which is why we have been blessed with nature's gift of Ayurveda to improve our sex lives. Yes, there are herbs that can jumpstart your sexual life in no time.
Here are the five ayurvedic herbs that will help you have a good time:
ASHWAGANDHA
Ashwagandha has long been used as an aphrodisiac for men suffering from erectile dysfunction, but it has also shown excellent results in stimulating female sexual energy.
According to a study published in the journal BioMed Research International, consuming Ashwagandha on a consistent basis for 8 weeks can significantly improve your libido. Not only that, but the study found that the sexual satisfaction of the women who took part improved.
SHILAJIT
Shilajit is a well-known natural ingredient that can aid in having long sex sessions.
According to a study published in the journal Andrologia, Shilajit also aids in the increase of testosterone in the male body. It's no surprise that this herb is abundant in honeymoon destinations!
This herb has also been linked to an increase in sperm count and quality. So, if you are also facing problems in conceiving, you can also take the help of this ayurvedic aushadhi.
SHATAVARI
The queen of herbs has arrived to rouse your libido from its slumber! This one is known not only for increasing sex drive but also for providing energy and endurance to shake things up a little. This one, according to science, also shows promising results in terms of female fertility.
Shatavari is known to nourish the ovum, making childbearing easier, according to a study published in the Asian Pacific Journal of Tropical Disease. It can also treat other sexual disorders such as sex organ inflammation, impotency, premature ejaculation, and so on.
GOKSHURA
This is yet another tried and true aphrodisiac for both men and women. However, science suggests that it appears to offer more to your male counterpart. It has been observed that excessive alcohol and cigarette consumption causes men to have a low sperm count. Stress, by the way, also plays a role here. Disorders such as erectile dysfunction have been observed in extreme cases.
According to a study published in AYU, an international quarterly journal of Ayurvedic research, infertility is a global problem that affects 8 to 12% of couples worldwide.
However, Ayurveda has a solution in the form of Gokshura. According to the study, consuming Gokshura for few weeks can help with sexual disorders. It has also shown significant improvement in sex drive.
SAFFRON
Saffron is the final item on the Ayurvedic bucket list that can help you improve your sex life. Saffron, on the other hand, has long been used as an aphrodisiac. According to a study published in the Avicenna Journal of Phytomedicine, saffron is truly a gift from God for improving sexual dysfunction in both men and women.
Take your sexual desire seriously! To keep it alive and healthy, go the herbal route.
Be it loss of libido, premature ejaculation, or Erectile dysfunction, none of them is a disease and are totally curable through medications. But if you want a permanent fixture without any side effects, AADAR with the holistic science of Ayurveda brings you powerful products that have powerful curing and healing properties and may help to spice up your sex life in no time.
In The End
To improve and enhance your sexual life, consume natural and healthy supplements. AADAR has the best ayurvedic male enhancement pills and other sexual wellness products. AADAR has a wide range of sexual products that treat your sexual concerns naturally and effectively for a long time.
We have Health Experts who can easily connect with you and discuss your sexual concerns. You can consult your family doctor first to get the most accurate diagnosis, or you can contact our
Health Expert
or connect with us at
+919867667699
.