AADAR Blog
MODERN MEDICINE ADAPTS THE ROOTS OF AYURVEDA
by Harsh Shah on Jul 05, 2022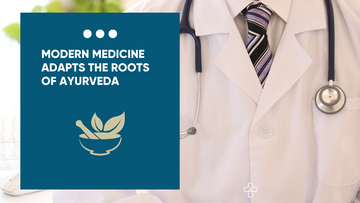 Ayurveda is based on the principle of keeping the connected relations within the body and mind in balance. Ayurvedic literature contains remedies for age-related diseases such as memory loss, bone loss, diabetic wounds, and others for which there is no effective medicine in modern therapy. Ayurvedic formulations should be standardized as they are also found to have equal effects as western medicines
FROM THE ROOTS OF AYURVEDA TO MODERN MEDICINES 
According to the World Health Organization, herbs are used by 75% of the world's population for basic healthcare needs.
Currently, the procedure of herbal medicine involves the use of over 53,000 species (https://www.ncbi.nlm.nih.gov/pmc/articles/PMC4020364/). As mentioned in those historical Ayurvedic books, Ayurvedic medications are traditionally used as extracts or a mixture of ingredients for medicinal reasons. However, modifications are required to convert Ayurvedic medicines into unit dosage forms for them to be accepted and identified as modern dietary supplements. Modern development techniques are being used to implement and achieve clinical efficiency by improving absorption and stability. There are several approaches to developing products with improved absorption and bioavailability for consumers. These techniques increase the potency of Ayurvedic ingredients. 
FROM CULTURE TO MODERN-DAY ADAPTION
Around 1100 herbal remedies are used as medicine, with at least 60 popular herbs. As per the survey, the data says still in today's time people who have gained positive results from Ayurvedic medications among them 60% of them have continued for a lifetime with Ayurveda. With advancements in scientific methods, Ayurvedic medicines are steadily finding their place in the world as effective supplements. Several developments, particularly the shift from synthetic to more natural pharmaceutical drugs supported by clinical evidence, drive the demand for the development of Ayurvedic-based nutraceuticals.
Many modern medicinal combinations have entered the global market as a result of research into claims made by various traditional practices such as Ayurveda. Today's pharmaceutical companies have been and continue to be involved with this ancient Indian traditional medical system, creating products based on traditional Ayurvedic remedies and principles. India is at the forefront of developing Ayurvedic-inspired modern medicines
There is a significant difference between Allopathic and Ayurvedic medicine approaches. Ayurveda requires more research in fundamental principles and diagnostic tools rather than drug research. In the current situation, Ayurvedic research methodology is not being followed as religiously as it should be, which necessitates further development and promotion of Ayurveda.