AADAR Blog
Post Holi Detoxification Guide
by Dr. Diksha Tiwari on Mar 24, 2022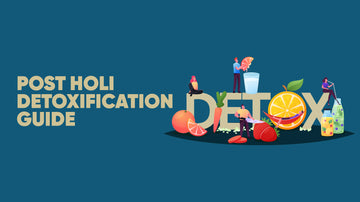 How was your Holi? Played with colours? Eat a lot of gujiyas? Indulged in quite a lot of drinks? If yes, then it sure was great, but wait, did you detox after all this?
Giving your body a detox after festivals like Holi is important. Those Holi colours were in direct contact with your skin and hair, and that would have caused a lot of damage. Moreover, the number of Gujiyas you ate in the name of "Bura Na Mano Holi Hai" would start showing their effects after some time.
So before it's too late, let's get a detox. In this blog we are going to tell you how you can heal your skin and hair, and what post-Holi care your skin and hair need.
We will also tell you some easy detoxes for your body and tips to lose weight after all those indulgences.
Let's start.
How to heal your skin?
Your skin needs extra care after the festival of colours, because no matter how much preparation you do for your skin to save it from the harmful chemicals in the gulals, your skin does get affected.

Use the double cleanse method: The Ayurvedic double cleanse method has been proven to benefit the skin in multiple ways. Start by massaging oil onto the skin. The skin cells that have been dead come off easily with this method. After this, prepare a paste or ubtan of the natural ingredients, such as soft oats powder, gram flour or besan, and a pinch of amla powder. Rub the powder on your oiled skin and constantly rub the powder to cleanse.
Don't apply makeup for some days: Any kind of makeup is best avoided for some days. Let your skin heal first from the effects of the colours.
Moisturise your skin well: Always apply a moisturiser. Choose a lightweight moisturiser that suits your skin type. Reapply the moisturiser at regular intervals to give proper hydration to your skin.
How to care for your hair?
Your hair needs extra nourishment post-Holi. You might have done the basic things like applying hair oil, but your hair needs a little more than that.

Apply a hair mask: Hair masks are the fastest way of providing your hair with all the essential nutrients. Apply hair masks that contain only natural ingredients for better and quicker healing. According to Ayurveda, ingredients like yoghurt and amla benefit the hair and should be a part of your hair pack.
Trim your hair: Because colours can harm the growth of your hair, you can opt for trimming to remove damaged ends.This will leave you with healthy hair that will grow and will look fabulous.
How do you detox your body?
Don't worry, we are not going to tell you to fast all day. These are some simple tips you can include in your daily routine for up to a week after Holi to get your system cleansed.
Eat light meals: Light meals can help your system get back on track. The best foods can be dal khichdi, curd rice, etc.
Drink lots of water: Water is the best drink for cleansing your system after all the heavy meals you have had.
Avoid any kind of packed, processed, or outside food: Yes, those commas are put there to mention all the things that might be your weakness. For better digestion, avoid this kind of food for a few days.
Try fresh drinks: Fresh juices, coconut water, buttermilk, and herbal teas can be helpful in detoxing your body. Avoid any kind of packed juice and choose only fresh and natural juices.
Do Yoga on a regular basis: Yoga, like any other form of exercise, will help you get in shape and lose that holiday weight.
Try Oil Pulling: This ayurvedic detox method can also be beneficial. Consult an expert before trying it.
These were all the tips we wanted to let you know for a post-Holi detox and skin and hair care. Let us know if you have any additional suggestions.
If you have been finding natural ways of dealing with these kinds of problems, then you believe in the power of ayurveda. If you believe in the power of Ayurveda and are on the search to find a brand that provides ayurvedic medication for everyday problems like indigestion, weight loss, or even sexual health problems, then you should definitely check out AADAR.
AADAR is an ayurvedic brand that is also science-backed. We have been the proponents of ayurveda and have emerged as an online platform that provides people with ayurvedic medication in as simple a form as capsules, tablets, and oils.
Check out our website to learn more about us and the products that we offer.