AADAR Blog
SEX SYMBOL MILIND SOMAN: MODEL OR ROLE MODEL
by Harsh Shah on Nov 04, 2022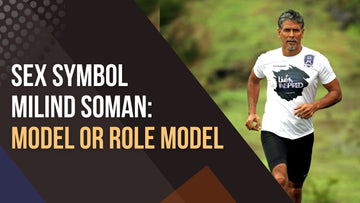 Milind Soman is without a doubt one of Bollywood's fittest and most attractive actors. He recently revealed that he is a sex symbol in the industry. Milind revealed in an interview with a news website that he is not at all uncomfortable with being a sex symbol. In fact, the actor referred to it as his USP. He believes that if he is uncomfortable with being a sex symbol and objectified, as he has been since the beginning of his career, he should not be in this business.
The fact that Milind does not try to hide his wrinkles or grey hair is what attracts women the most about his personality. He makes no attempt to be anyone's favorite, which is why his charisma makes ladies weak at the knees. Milind Sonam has unquestionably remained the hottest man on the block over the years. He rose to prominence after appearing in Alisha Chinai's video. Girls all over the country still swoon over his good looks and physique. 
Milind, in addition to having a strong presence in Bollywood, has a number of Marathi films to his credit. With notable performances in films such as Gandha, Samhita, and Astu, Milind has amassed a sizable fan base. While Gandha was based the film blends three stories in which the main characters go through experiences involving their sense of Smell, Samhita and Astu deal with feminism and mental health, respectively.
The symbol is identical to Mars' planetary symbol. Carl Linnaeus used it to denote sex for the first time in 1751. The symbol is sometimes interpreted as a stylized representation of the Roman god Mars' shield and spear. According to Stearn, this is a "Fanciful" derivation, and all historical evidence points to "The Conclusion of the French classical scholar Claude de Saumaise (Salmasius, 1588-1683) that it is derived from, a contraction of the Greek name for the planet Mars, Thouros.
Here Are Some Fascinating Facts About The MILIND SOMAN.
He used to smoke 30 cigarettes daily at one point in his life! However, once he realized he was addicted, he stopped smoking.

Soman regards refined sugar as a slow poison that kills health and avoids it at all costs.

Many people are unaware that Soman is a national swimming champion. He took silver in the National Championships.

Milind Soman began running half-marathons when he was 38 years old, which is not a young age for running. He progressed to running full marathons before taking over the triathlon at the age of 50.

Soman wishes to see Indian women begin to run for their health. No celebrity has ever supported a cause that is concerned with the well-being of Indian women.
So the question is what is Masculinity or the true definition of being a Man? It all takes small things which we don't generally pay heed to. No one becomes a Man overnight, it takes discipline, determination, and good wills. 
So How That Male Status Symbol Is Defined?
Man With Strong Beliefs & Convictions
The great thing about our country is that we have the right to free expression. You may make political comments and express personal beliefs, including religious beliefs but with a note just a sensible person and without hurting anyone's sentiments. While this may turn off the general public, it also resonates with people who are similar to you.
It shouldn't matter if others think less of you if you have strong convictions. People who share your beliefs will be drawn to you and your bravery. That's a great way to boost your status.
A Man With Good Physique
This isn't about having a buff or a good-shaped body. A body by design is more than just going to the gym; it is about mastering your body so that it fits your culture or profession. 
To have a body that elevates your status, you must first understand yourself. Overall aims to have a good and healthy physique overall with a healthy lifestyle. 
Good Etiquette Is A True  Male Status 
Until now, etiquette has been used to make people appear more or less civilized. Not long ago, etiquette was used to separate people into classes rather than clothing. Unfortunately, there is no universal book on the subject. Etiquette differs from one culture to the next. However, if you want to better your life, you must understand basic etiquette, especially when attending formal events. 
A True Man Never Apologizes For His Feelings or Desires
This does not imply that he is impolite or unconcerned about other people's feelings. Quite the contrary. He is generous and kind not only to his loved ones but to everyone on the planet.
A true man respects everyone, regardless of social status. And, yes, he will open the door for you, pull a chair for you at the table, offer you his coat if you are cold, and make all the other nice gestures that gentlemen make.
A true man embraces all aspects of his being, including his strengths and weaknesses.
- His shadows as well as his gifts
- His masculine essence as well as his feminine side
- Both his wild, untamed soul desires and
- His gentle, loving, and peaceful side
Men enjoy the mystery as well. It's no surprise when a woman follows her heart into a relationship. She's a walking book. A man's attraction grows as a result of his resistance. It is the key to making yourself irresistible to men. Resistance also demonstrates self-control. A woman who is in control of herself and her life is very appealing to men and difficult to resist. He will work hard to become a part of her world. He finds it difficult to get her attention because she refuses to settle. He feels exceptional if she chooses him.
A man who pays compliments without expecting anything in return has the courage to tell you that he enjoys women's smiles brightening the room because that is how a true man should feel. And he makes no demands in exchange for complimenting you. He's simply recognizing and appreciating your beauty, grace, and feminine essence. 
A real man is self-assured in his body, calm in his mind, and aware of his emotions. Even if he's scared in his heart, he can stay centered and grounded when the entire world appears to be falling apart.
A true man recognizes a true woman and supports her in whatever she desires.
A true man never wields more power than is required. He is much more powerful than you. But, no matter what, he will never, ever touch you. To the best of his ability, he will protect and respect you.
AADAR says a genuine man will never use manipulative, deceptive mind games to force you to do something you don't want to do. Although he values each and every one of the gifts that you generously share with him.