AADAR Blog
7 Steps to Get Her to Say Yes This Valentine's Day
by Dr. Diksha Tiwari on Feb 10, 2022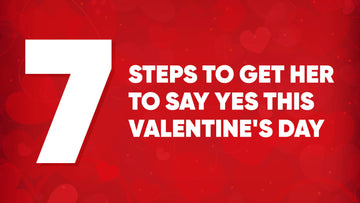 Do you want to confess your feelings to your crush? Do you want her to say YES? Let us tell you 7 steps in which you can make her #Sayyes in deep moan of pleasure.  
Step 1 -  Flirt your way in.
Girls love when men use pick-up lines on them. Get her attention by playing with words. Flirt with her to make her notice you and like you. But make sure that you are respectful towards her. Let her know that your innocent face has a wild side too and make her crave for it by showing her just a glimpse of it. Flirting is a great way of getting the attention of your love interest. So go try your luck. 
Step 2 - Be playful. Be a tease.
Girls love a playful person. Showing her that you are unpredictable and may come up with an amusing or even naughty remark anytime would attract her more towards you. You can take the advantage of your charisma to draw her attention. Wink at her, give her a mischievous smirk, hold her hand. Do everything she likes. Play games with her where you tease her and maybe cheat to win. Who knows at the end of the game you get a chance to score.
Step 3 - Seal it with a kiss.
After a good flirt session, you will just understand whether she is interested or not. If she is interested then you will be able to see it through her smile and behaviour towards you. See a good time and make a move towards her. "Borrow a kiss and swear to give it back." The hierarchy of kisses should be followed. Start by giving a cheek kiss and when she blushes or smiles at this sweet gesture give her a peck on the lips. Let us tell you a witty pick-up line - They say kissing is a language of love, would you mind starting a conversation? 
Step 4 - Take it slow.
The love of your life has just kissed you. We know that your excitement would be too high and you might just want to go all out and show your love to her, but that is exactly what you don't have to do. It is time to make her feel how important she is to you. You have to make her feel safe and relaxed. Touch her, hug her and caress her to make her comfortable. This will also build up a strong bond between you both. Build up the excitement that would make both of you satisfied at the end. 
Step 5 - Touch a feeling.
The excitement has built up and by now she might be ready for the next level. It would now be safe to touch her on the erotogenic areas. But as you touch her and kiss her on her sensitive areas, keep tracking her reaction. You should give her maximum pleasure by fulfilling her fetish. This will make her surrender to you. The fire would be burning strong within her by now and you will have to be very careful in keeping it going. 
Step 6 - Tr(eat) her right.
To keep the romance going on without getting her overwhelmed quickly, try different ways of giving her half the pleasure. Just before reaching the highest point, recede, and then tease her a little. This will drive her crazy and she would want to have more of what you can present to her. But be very careful that you don't put out that fire that you have been working so hard to start. Ramp up the romance by striking a balance between making her shy and making her cum.  
Step 7 - It's showtime.
Get a room for 2 in 2022. The romance has built up and it's the climax now. Be the man in charge. Make her feel so loved that she would want to do "that" again and again with you. Rock her world and drive her crazy. Be a giver and be generous. Let her understand that you are the one whom she has always wanted. Keep kissing her in between to make sure she is enjoying it as much as you are. If she tries to take the lead and wants to be "a top", then let her because she might just want to return the favour of all that you have done by giving you the utmost pleasure now. 
These were all the tips we had to give you to make your Valentine's day or maybe Night, a really special one for you. Make her the 1st task on your "To-do" list and complete the task well, on time, and with full dedication. Give her a better gift this Valentine's day. Make her #sayyes. 
It is difficult to be a man as you constantly have to chase and make a goal to score. AADAR understands your problem and therefore, we are here to support you in every possible way. Not only will we guide you in the right way of approaching your love interest, as we have done above, but we will also help you in providing Ayurvedic, scientifically proven solutions to your problems. You won't have to compromise on your pleasures. 
It's Valentine's week and we think you deserve a treat! Enjoy 14% additional cashback on Couple combos from 7th-14th Feb.